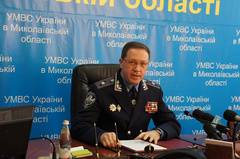 In Nikolaevsk облУМВД intend as it is possible to gather quicker than people in patrulno - sentry duty of a special purpose «Saint Nikolay» which purpose is the help in protection of office buildings, streets and nikolayevets from separatists and «green little men».
The head of department of the Ministry of Internal Affairs of Ukraine in the Nikolaev area Yury Sednev reported a press about it in time - conferences on April 15.
So, according to Sednev, at present there is a task already at 18:00 on April 14 to put necessary people «in a system».
- Naturally, we will do it as it is possible quicker. Terms aren't present. Already yesterday it should be done everything, - the chief облУМВД noted.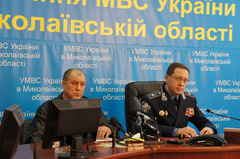 Also in time a press - conferences Yury Sednev presented the commander of these special forces. I became it 49 - summer Vitaly Goncharov who served in divisions of special troops and I was one of heads of a separate company of militia of rapid response «Golden eagle». Repeatedly I was in business trips in «hot spots».
The chief militiaman of the Nikolaev area also reported that the personnel commission, is already createdwhich in the accelerated order from civilians will select people on special to criteria. Priority it will be given to the experts having military education, physically developed, having experience in military operations, in hot spots. Also it will be checked psychological state and it is carried out narco - psychological control of the contestant.
At the same time, Sednev assured that the faces, wished to become in ranks of special forces, will be checked on morally - to psychological criteria to avoid traitors in the ranks of division.
- People who are patriotically adjusted will be selected. Our task to protect, - Sednev noted.
Also selection will take place and among acting police officers.
- Maybe someone will be restored, someone will come from the citizen, - Sednev added.
He also reported that to the staff of special forces salaries are already defined.
- If the person is restored, there will be still a long-service bonus, a rank, and on ordinary citizens social guarantees will extend, - the chief militiaman of area told.
Originally these special forces have to provide order protection on the main automobile highways of area.
Staff of these special forces will be armed with the modern automatic weapon. It will be given by the commander of division depending on objectives and working conditions.
At the same time, in the Nikolaev militia hope for support of a depuy corps, and also small and medium business in ensuring equipment of these special forces.