Under synagogue doors in Kiev threw a leaflet from «general staff of the Donetsk republic» , in which from Jews demand to pass process «registration».
About it in the «Instagramm» the user «wrote_ibrunette _».
So, in a leaflet - the address under which there is a signature «national governor» Denis Pushilin and press «Donetsk republic» , it is noted that all Jews are more senior than 16 years have to pass paid process «registration». If they refuse to them threaten with deprivation of nationality and property confiscation.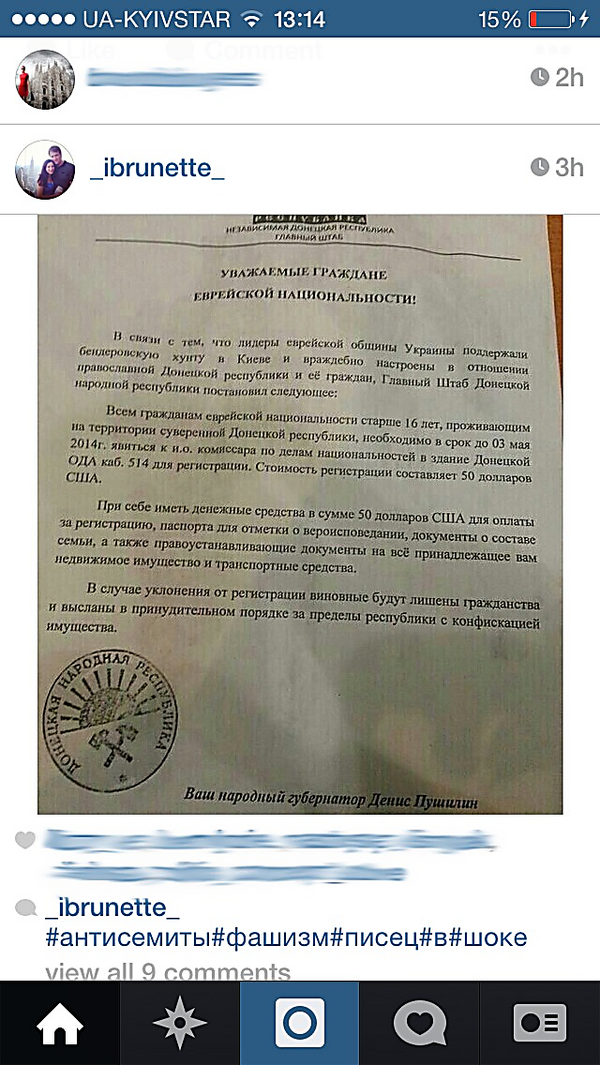 «To all citizens of the Jewish nationality 16 years, living in the territory of the sovereign Donetsk republic are more senior, it is necessary to be till May 3, 2014 to the acting commissioner for nationalities to the building Donetsk YEAH, an office 514, for registration. The cost of registration makes 50 US dollars.

At itself to have money in the sum of 50 US dollars for payment for registration, passports for a mark about religion, documents on family structure, and also documents of title on all real estate belonging to you and vehicles».

In case of evasion from registration the guilty will be deprived of nationality and sent forcibly out of borders of the republic with confiscation of property» , - it is specified in a leaflet.
According to the blogger «Radio Freedom» Mark Krutov, similar leaflets appeared and, actually, in Donetsk. Their existence was confirmed by the Donetsk journalist Alexey Matsuka.
We will note that information in this leaflet reminds policy which was pursued by Hitler's mode in occupied territories, in particular, in the created Jewish ghettoes. Then also it was carried out «registration» Jews whom forced to carry «yellow stars». Besides, nazis selected property at Jews.
We will remind, earlier it was reported that in Donetsk separatists demand from businessmen monthly tribute and vodka.