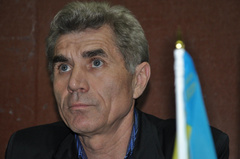 On the Nikolaev posts, located on entries into the city, dresses from the marines who have been earlier relocated from the Crimea to Nikolaev will be exposed soon.
The leader of a militia Nikolay Trosinenko told about it on Wednesday, April 30, during a meeting of the secretary of the National Security and Defense Council of Andriy Parubiy with activists of the National militia.
So, during a meeting the activist of a militia Alexander Yantsen brought up a question that relocated from the Crimea to Nikolaev marines aren't armed though we are ready to protect the Homeland.
- At us marines (from the Crimea, - PN) in number of 300 people now are based. These are the experts, ready to protect the Homeland. They have no machine gun, any gun. When the service weapon with which they will protect the Homeland will be handed over to these people?–Yantsen addressed with a question to Parubiy.
In response to it the secretary of the National Security and Defense Council noted that today learned about this situation.
- I learned today about this problem. Moreover, as far as I know, they are ready to execution service not only in the part…territory, - Parubiy started answering.
It was added by the leader of the Nikolaev National militia Nikolay Trosinenko
- We already agreed that they expose in addition the dresses on posts with the weapon, three persons. Besides, as I was assured by the commander, already there is in part a weapon and it enough for service. Besides, we agreed that we will put on posts fighting vehicles of BRDM (Armor razvedyvatelno - the patrol car, - PN) on which these marines will just serve here... Everyone (from them, - PN) who will go on watch, will have an automatic service weapon, - Trosinenko told.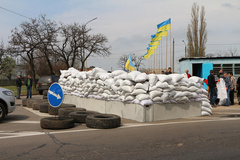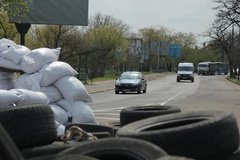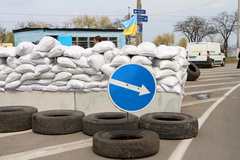 On a photo: The post located in the residential district of Varvarovk
It is known that in Nikolaev it is deployed Feodosiysky battalion of marines, which was brought from the Crimea.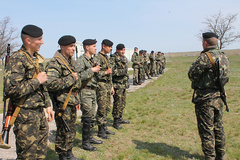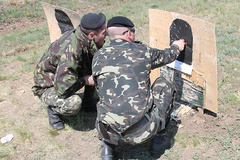 On a photo: The Crimean marines in Nikolaev actively are engaged in combat training
We will remind that within official visit to Nikolaev Andriy Parubiy I held meeting Council of defense of the Nikolaev area. Meeting took place with participation of the management of connections and parts of Armed forces of Ukraine, representatives of public organizations and law enforcement agencies.
Also being in Nikolaev, Parubiy declared that Russia wages against Ukraine non-standard war, and often inefficiently to answer it classical methods.