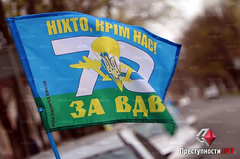 From the middle of March of the current year of the location 79-й Nikolaev separate airmobile 54 persons called on mobilization self-willedally left.
About it «Crime. Is NOT PRESENT» reported in 79-й ОАЭМБр.
So, among left the crew arrangement the general majority is made by inhabitants of Nikolaev and area, also in the list there are soldiers from the Crimea, the Kirovograd and Kherson areas, the cities of Sumy and Zaporozhye.
«54 servicemen who cowardly ran away disgraced themselves, having laid down fighting arms and having betrayed the companions. And it when the vast majority of the Nikolaev paratroopers shows unprecedented courage and heroism when performing the set fighting tasks. That who dishonored itself(himself)–not a place in a landing system in which courage, courage and firmness, and also readiness for self-sacrifice for the sake of the people, for the sake of the Homeland–is appreciated Ukraine» , - notes command 79-й crews.
Also it is reminded that self-willedally left 79-ю crew the military personnel will incur criminal penalty.
«But contempt of acquaintances and close these people who a minute of the highest danger to the country preferred to become traitors» have to become big punishment, - summarized crew command.
We will remind, earlier it was reported that the Ukrainian security officers took under control Saur - the Grave, with which terrorists blocked a corridor to the Nikolaev paratroopers.