From April 9 to April 16 the Nikolaev Jews, as well as Jews of all progressive mankind, celebrate Passover.
The word Passover means "passed". One more name of a holiday Passover - the Festival of our freedom.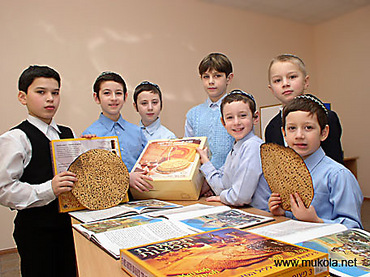 The holiday proceeds eight days. From them the first two and the last two - festive. During all these eight days all is forbidden in food kvass - hamets. Kvass are any products from wheat, a rye, barley, oats. Them not only is - it is impossible to store in the house. Therefore on the eve of Passover do clear-out - clear of the remains of hameets ware, tables, plates. If in the house there are stocks of flour products - they are locked away and "sell". In days of Passover from flour products it is possible and has to eat only to mayets. Where people take mayets? Very simply: buy in a synagogue. Only this way it is possible to be sure that this mayets is suitable for the use in days of Passover. The remains of hameets found at cleaning on the eve of Passover burn. On an outcome of day the 14th Nissan (on April 8) arrange an easter seder. The word "seder" means "schedule". It is a meal which is carried out strictly by rules. During a seder read easter to agate - the legend on an outcome, eat to mayets, drink obligatory four glasses of wine, eat bitter greens, say prayers and sing easter songs. During a seder everyone endures again an outcome from Egypt, transition from slavery to freedom and transfers to children the main ideas and values of the Jewish people. The 15th Nissan (on April 9) arrange the second seder, it is repetition of the first.
In the last day of a holiday - on April 16 at 11 o'clock in a synagogue IZKOR prayer for the dead is said. Everything who wants to remember the late parents come to this prayer.
This year on the eve of Passover the Nikolaev Jews will say unique blessing - sun blessing. This blessing say time in 28 years when the sun comes back to a place in which it was placed in the course of World creation, on the same day and in the same hour. If to count, it will turn out that the person, having lived 120 years - as that Jews wish each other - no more than 4 times can say him.
Blessing of the sun will take place on April 8 at 8.30 in the Shouting Menakhem school yard, the chief rabbi of Nikolaev and area Shol Gottlieb reported.