On these output residents of Nikolaev and city visitors expects real cinema of weekend from organizers of the come to the end yesterday, on November 7, International festival of documentary cinema frames of the person «Docudays UA» , which in Nikolaev as earlier it was reported, I opened with the notice.
So, on Saturday, November 8, at 18:00 in a concert - the hall «Youth» final display of movies - participants of competition of short cinema will take place «Civil projector» on a subject «The world during war» , which it was declared On September 15 this year with assistance of the Nikolaev regional state administration and All-Ukrainian charity foundation of Igor Yankovsky «Initiative for the sake of the future».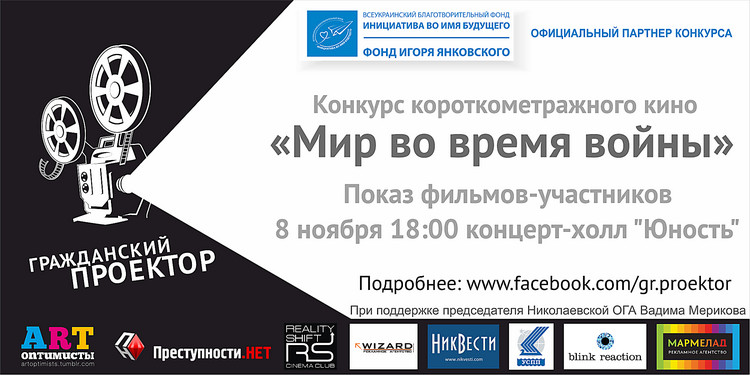 In one and a half months organizers received more than 20 pictures from young directors from Nikolaev, Odessa, Kherson, Kharkov, Dnepropetrovsk, Youzhny, Berdichev and Kiev. As a result of primary assessment, for participation in the final of jury selected 12 movies which will be shown to the viewer.
- Already more than half a year Ukraine is in a condition of not declared war. As it is endured by people that to them happens of what they think and as changed that such the world during war–about all this shot the documentary and fiction films directors from the different cities of our country, - one of organizers of competition, the journalist Andrey Lokhmatov noted.
During a final ceremony on November 8, 2014, to attention of audience movies - participants of creative competition «will be submittedshort meter» , among which 12 movies: «Freedom price.79» director Evgeny Ivanochko, «Future indefinite» director Maxim Goluba, «Instruction to the invader of Nikolaev» director Evgeny Umanov, «World» director Anatoly Vasilevsky, «Museum» director Andrey Parfenyuk, «Thoughts» director Galina Vodopyanova, «Down steps» , director Sergey Anashkin, «Lenin's body» director Mikhail Moskalenko, «Color of the nation» director Marianna Kotik, «War and peace. South and East» director Andrey Prokopenko, «Live, my Ukraine» director Dmitry Dybin, Tatyana Chervony and «Not oblivion» director Vitaly Klets.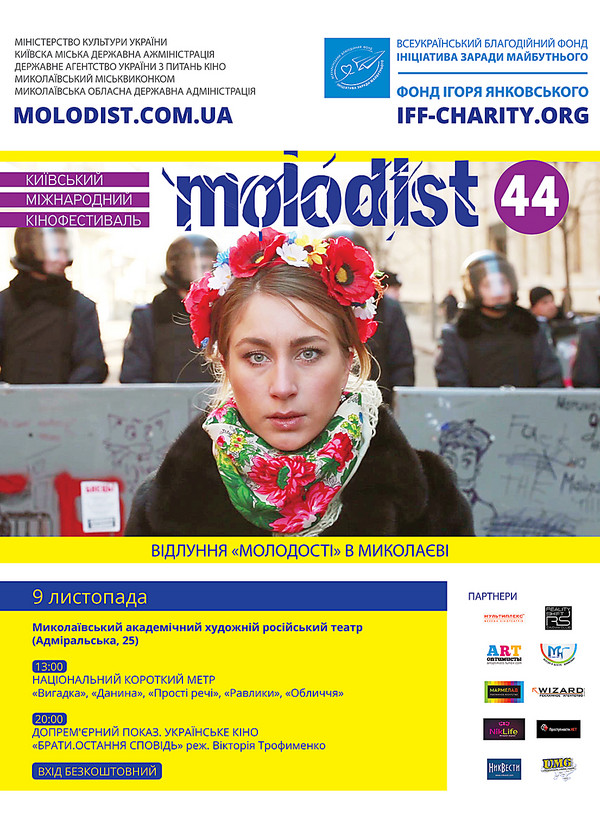 Such experts as Andrey Halpakhchi, the CEO of the Kiev international film festival «were a part of jury of competitionYouth» , Alexander Filonenko, the art critic and the film critic, Lesya Levchenko, the candidate of political sciences, the associate professor of political sciences of ChGU of Pyotr Mogila, and also, Nikita Khudyakov, the head of public organization «Arth - Optimists» , which will estimate pictures of participants and will decide on the first three prize-winning places. Awards to winners of competition of short films will be handed by the founder of All-Ukrainian charity foundation «Initiative for the sake of the future» , Igor Yankovsky. In the nomination «Spectator sympathies» the option of the winner will be granted to the audience who by vote will define the main finalist.
Besides, on Sunday, November 9, in Nikolaevsk academic art the Russian drama theater (Admiral's, 25) with assistance of Igor Yankovsky's Fund at 13:00 will pass premier displays of movies - winners and students of the National competition which came to the end in Kiev, 44-го the international film festival «Youth» , and also dopremyerny display of the new Ukrainian feature film will take place at 20:00 «Brother. Ostannya сповідь» director Victoria Trofimenko. The entrance on all sessions, is reported by organizers, free.