In Nikolayevshchina under landing of forest plantings three unique meadows on which grew Gesner's included in the Red List of Ukraine the tulips were opened. This species of a tulip is the extremely rare and endangered species of steppe flora of Central Asia. On the basis of this species of a tulip by selectors out of different corners of the world were brought the majority of types of modern grades of garden tulips. In natural flora of Ukraine Gesner's tulip meets in steppe zones (Lugansk, Donetsk, Kharkov, Zaporozhye, Dnepropetrovsk, Kherson, Nikolaev, Odessa and ARE the Crimea). Catastrophic reduction of the areas of virgin steppes, burning out, intensive collecting plants by bouquets and a pasture of pets led to catastrophic disappearance of this species of plants.
According to the director of the Regional Black Sea network of public organizations Oleg Derkacha, opened under wood landing in Nikolavshchina there were three places of growth of a tulip of Gesner - the Ochakov area between Balanovo and Limanoye's villages, the Bereznegovatsky area between Andreevo's villages - Zorino and the Waterless valley, an upper course of a beam of Atamanki on the coast of the Tiligulsky estuary.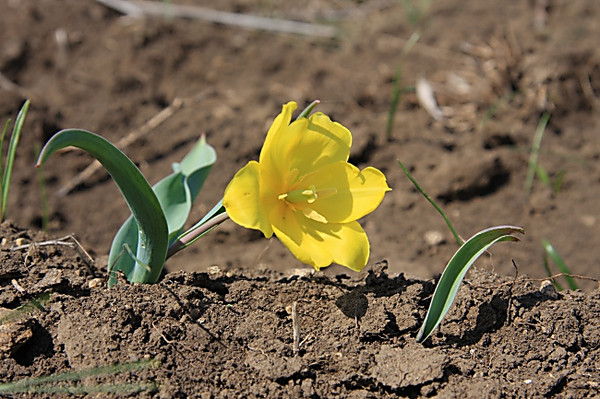 "To speak about mass character of growth in these parts Gesner's tulip, maybe, and loudly, but, in any case, in these parts they grow not poodinochno, and to 300-200 individuals", - Oleg Derkach tells. "The forestry tries to land the third year in a row the wood on these meadows, but it there isn't accepted as conditions for it don't approach. It is possible to say with full confidence that if the similar raspakhivaniye will proceed further, Gesner's tulip in these parts will disappear - in any case, in large quantities".
We will remind that during archaeological examination in the Ochakov region of the Nikolaev area on lands of Ochakov regional council, within the Adzhigolsky braid in the east of a summer camp the fact of destruction and damage of the top layer of a burial ground was recorded (owing to works on disembarkation of the pine wood the plantazhy the top layer of a burial ground at a depth up to 0,7 meters thanks to what on a surface burials of antique time and movable instructions of architecture (pottery) were lifted and damaged was destroyed.