On April 24 - to historians single, pair knightly fights and бугурт (a wall on a wall) were presented to students. Today the club of the historian - ethnographic reconstruction works in four directions - "Russia", "A Teutonic award", "Horde", "An award of gospitalyer".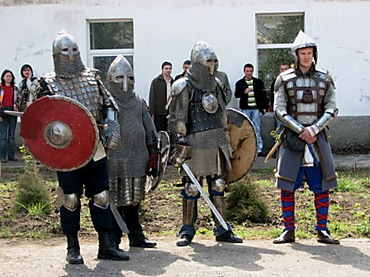 However, at Institute of history were shown only the two first.
In breaks between fights one of leaders of club - комтур Maxim Prokhorchuk - told the Nikolaev komturiya of the Teutonic award about details and specifics of production of knightly arms and equipment. And girls - participants of club showed reconstruction of suits of the European woman of quality, her servant and the girl - Slavs.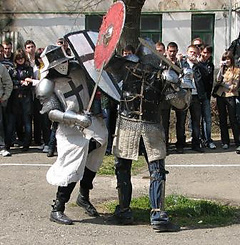 As the deputy director for educational work Igor Nikolaev, the organization of similar actions - part of the pedagogical concept to which the institute follows told. So theoretical knowledge is consolidated much better, reports image policy of NSU of Sukhomlinsky.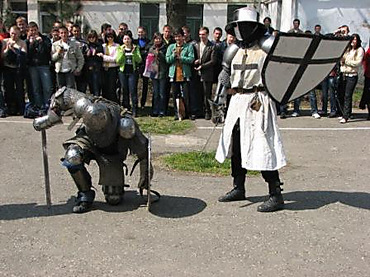 After the end of fights students could feel and try on a knightly armor, wave with swords and be photographed with the German knights and the Russian heroes.
The particular interest to activity of club of historical and ethnographic reconstruction was shown by the staff of laboratory of archeology and ethnology. On the basis of Institute already there is the potter's workshop which is engaged in reconstruction of ancient ware. There is also great interest to reconstruction of the antique and medieval weapon and an armor.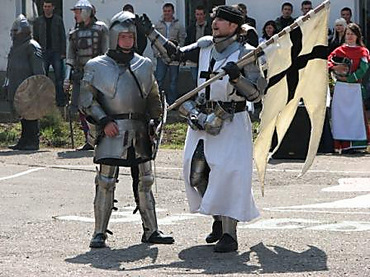 Performances of Grifon club take place rather often. But, as a rule, this participation in festivals in Kiev, Odessa, to the Crimea. On May holidays of "grifonovets" it will be possible to see in the restaurant Templar complex.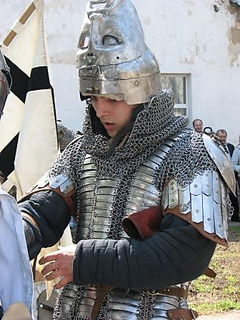 However, judging by an agiotage which club performance, both among students, and among teachers caused, this visit of "Griffin" to university not the last. Probably, in similar practice will become interested as well other higher education institutions.