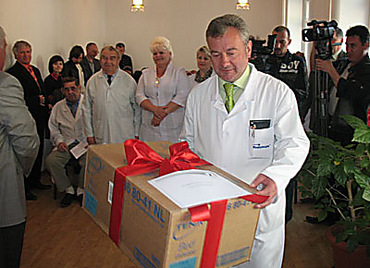 On April 28 in a conference - a hall of a regional oncological clinic the charitable event from All-Ukrainian public organization "Ukrainian Medical Union" which free of charge gave to medical institution medical protivoopukholny preparations to the sum of 125 thousand hryvnias took place, reports management of health of the regional state administration.
The organization made such decision after by check of the Ministry of health protection of Ukraine was established that the Nikolaev area is provided with protivoopukholny preparations for specific treatment for public funds for only 18 percent. Thus the Nikolaev area takes the third place in Ukraine by quantity of oncological diseases: on the medical account there are 30 thousand cancer patients.
The establishment management grateful for support, after all any charitable help renders assistance to more effective treatment of a difficult disease.