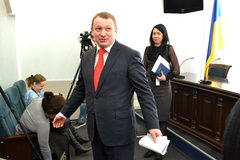 Vladimir Komashko resigned on February 25 from a position of the prosecutor of the Nikolaev area.
About it «Crime. Is NOT PRESENT» it became known from reliable sources in the Prosecutor General's Office of Ukraine.
So, following the results of conversation with the Attorney-General of Ukraine Victor Shokin Komashko wrote the notice of resignation from a post at own will.
According to the available information, Komashko was returned to a position of the deputy chief of Head department of supervision of observance of laws at execution of judgments on criminal proceedings and other measures of compulsory character of the Prosecutor General's Office. From this position of Komashko came to prosecutor's office of the Nikolaev area.

We will remind that Komashko headed prosecutor's office of the Nikolaev area a little more than half a year - from the middle of July, 2014. Before it I worked in the Prosecutor General's Office of Ukraine under the leadership of Victor Pshonki from beginning to end Maidan. He left an influential position only after a final victory of Revolution of Advantage. Carefully I hid this detail of the biography of Komashko.
A month ago then more the public prosecutor Vitaly Yarema scarified Vladimir Komashko including for bad work in investigation of the affairs connected with crimes during the Maidan. And the People's Deputy Igor Brichenko accused Vladimir Komashko of trade in criminal cases and I called today's prosecutor's office «shop of criminal cases» .
Already at Shokin in To the State Office of Public Prosecutor announced dismissals among regional prosecutors, which don't investigate a crime on the Maidan.