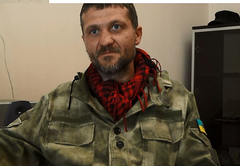 Odessa fighter the voluntary case of division of "Aratt" 8-й a separate company of "Right Sector", being on rotation in the city, I didn't find support and I didn't receive the help from the sworn brothers from Odessa "Right Sector" who tried not to notice it simply.
About it in interview "Crime. Is NOT PRESENT" the Ukrainian military who arrived on rotation to Odessa told.
So, on Saturday, April 18, the soldier reported that receives the help absolutely from foreign people who gratuitously help him and other fighters with his division, and his sworn brothers from the Right Sector say that can help nothing.
- It would be desirable to express (gratitude, - the edition), without our city, without participation of our city of Odessa is Vitaly Kadyk. He from Chernigov. The volunteer who even without checking, it is simple by phone, directly personally I helped me. 3 days ago he called me and asked phone of my battalion commander in order that to provide other people something useful, - the fighter of "DUKA" told.
In turn the volunteer who arrived from a front line told "to Crime. Is NOT PRESENT" that fighters - inhabitants of Odessa are left to the mercy of fate by Odessa "Right Sector" and don't receive from them any help.
- It is on this matter heavy even to answer. Why because on the basis of division our Odessa which is in "Aratta", and it is 10% of the general structure and that we are thrown to the mercy of fate here, coming from the front. That is there is no brotherly understanding to us any such is that we from where - that arrived. That we have some requirements. That there except simple, damn, to ask how are you a pancake, something is necessary more. There is no interest. I called and told that it is necessary to go, it is necessary tickets. Us two unfortunate persons to toil here which arrived on rotation, have no opportunity even for what to buy tickets, - the fighter of "Right Sector" noted.
Also he told about Dmitriye Rogovsk (Barmalya), which allegedly expelled earlier "Right Sector": it appeared that only it and his some colleagues help the inhabitant of Odessa in hard times.
- When I initially came to "Right Sector", there was Barmolya Dima, Ben, Edik the biker. Here I continue to address to them, because they resolve any issues in the most short time, - the fighter of "Aratt" noted.
It should be noted that the military scarified yesterday's march in memory of the nationalist Chaika. He noted that coming to Odessa after military operations on a front line in the anti-terrorist operation zone, fighters want tranquillity. Also he noted that "svobodovets" pursue especially "the small, mercantile interests".
- It is negative. Because it disturbs many inhabitants. If someone wants to show as far as it is strong, it can show it a voluntary battalion. Coming from a front line here, there is a wish for tranquillity. There is no wish for quarrel, irrespective of the fact which you have views. Try to divide the power everywhere. Not in the plan even parliament, and in the plan here even our nationalists, svobodavets. That is everyone for itself. It is impossible to reach someone. It is impossible to phone. All protect some small mercantile interests. When I thanked children with "Ober_ga" for help given me though it as if to me foreign organization, but the answer, simply spontaneous answer here was heard: "All of us equally do one serious work". And so give, people to do one serious work: or we for Ukraine, or we prosrt it, - the military summed up.
We will remind that the staff of the Suvorovsky District Department of Internal Affairs of the city of Odessa, having forged business against the inhabitant of Odessa, employed activists of "Right Sector" that those dealt with it: "public men" broke open a door where the wife of the inhabitant of Odessa with four juvenile children lived.