"Barvisty Пiвдень" - so is called the next personal exhibition of the artist Oksana Lisyanskaya, the member of the regional creative association "Pribuzhye". At 34 - summer Oksana it already seventh "personal computer". Previous - "September patterns", "Poetry of the native land", and others already managed to attract attention experts. And in 2007 she gained the diploma for 1-е a place in the city competition "Folk Art Youth Eyes" for the decorative painted panel "The Fairy Tale Spreads Wings", later presented to regional library for youth which already welcomes long ago the artist. Noticed its works and at All-Ukrainian Easter fair of this year.
This time bright cloths with still lifes and Oksana Lisyanskaya's landscapes decorated on May 28 walls of construction college, being pleasing to the eye of future builders to whom, in principle, the fine has to be not alien. "Roses and grapes": classical, according to the great Ukrainian poet, a combination beautiful and useful organizers of an opening day achieved.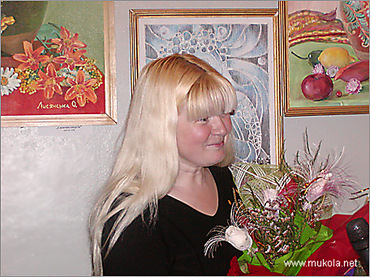 Each of works of the national artist can be compared to the separate story or, most likely, to the wonderful fairy tale. Lyudmila Chizhova, the member of the Union of writers of Ukraine, congratulating Oksana on opening of an exhibition and on recent birthday, I told about the general with it works, children's books which were illustrated by Lisyanskaya with a subtlety of decorative receptions inherent in it and a color scheme. In a typographical set already there is the next collection of the poetess and the artist - "Skrinya the Cossack". Oksana, the talented illustrator, executed sketches and to Lyudmila Chizhova's lyrics.
Except painting the artist with pleasure is engaged also in graphics. In the images of people stylized by it, flowers, animals the deep philosophical contents is concealed. And in its landscapes, in their unique color, acquaintances much views of Ochakovo, Rybakovki, Nikolaev come to life.
"Sunflowers", "Solar energy" - only one of these works testify that Oksana Lisyanskaya really found the mission in lives and "place in the sun".