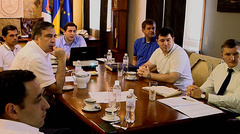 The head of the Odessa RSA Mikheil Saakashvili declared intention in 100 days to construct new terminals and completely to block smuggling at customs.
About it bosoms I ngapisat on the page on the social network Facebook.
«My team made presentation of our model of the customs terminal, revolutionary for Ukraine, in Odessa. In these new terminals at most 5-7% of containers will be examined, all main decisions will be made by the computer and time of passing of examination on average 15 minutes instead of the present will be frequent several days. If very much don't disturb us, we will construct new terminals within 100 days and completely we will block smuggling» , - I wrote to Saakashvili.
«Since morning we already met the American ambassador on development to get financing for preparatory part of the project» , - it is told in the message.
We will remind, before Saakashvili I accused Kolomoysky in participation in smuggling in Odessa