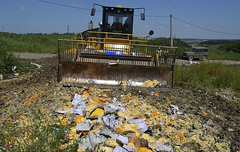 Picket against will pass destructions of the products forbidden by the Kremlin for import to Russia in Novosibirsk on August 13. Participants will demand to distribute import food to the needing.
Reports about it Tayga.info.
The action will take place in the evening 13 August at the fountain in Pervomaysky Square. Action is coordinated, the organizer Aleksandra Nalobina reported to the edition.
Picket is planned on 40 the person, specified in city halls of Novosibirsk.
Participants will oppose destruction of sanctions products, which, on them to opinion, it is necessary to distribute among lower-income strata. «Destruction of products seems to us blasphemy» , —Nalobina declared.
We will remind, earlier the Russian President Vladimir Putin I signed the decree on destruction sanctions the products imported to Russia. According to the document, destruction had to begin on August 6. Only in one day in the Russian Federation destroyed 320 tons of the "forbidden" products.
We will note, later in a network there were a photo as Russians on the ground collect the remains destroyed sanctions products