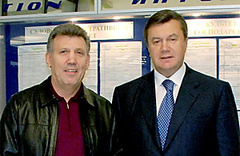 The electronic petition with the requirement to to the president Petro Poroshenko to investigate Sergey Kivalov's activity on to post of Central Election Commission in 2004 it was unpopular.
The petition submitted 9 September, on today not I gathered and one and a half thousand signatures.
- Public trial over Kivalov on to the fact of falsification of will of citizens of Ukraine —restoration of legitimacy of the power in To Ukraine.

The most scandal story in Kivalov's biographies it is connected with organization and carrying out in 2004 of election of the president of Ukraine, which in result of general falsifications (article 158 UK Ukraine) ended «orange revolution» , unplanned «revoting» second round and victory of the oppositional candidate Viktor Yushchenko, - it is told in the text of the address.
Also specified the fact of the mass falsifications which distorted a real picture of will of citizens in in the addressadvantage of the pro-imperious candidate, the prime minister - the minister Victor Yanukovych, on to the claim of opposition I was it is proved in Supreme Court of Ukraine.
- Head of the CEC after a victory «orange» repeatedly caused on interrogations in State Office of Public Prosecutor and Organized Crime Control Department, however, criminal, administrative responsibility it not I incurred, —it is told in text of the address.
Earlier it was reported that the petition on the president's site appointing Mikheil Saakashvili the prime minister - the minister of Ukraine, collected more than 26 thousand voices, at necessary 25 thousand.
We will remind that the electronic petition to the president of Ukraine of Petro Poroshenko about introduction of electronic system of vote in the Verkhovna Rada on prints fingers I gained 25 thousand signatures, necessary for consideration.