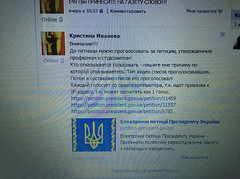 On the Internet there was information that students force to leave the signature for the petitions concerning the people's deputy Sergey Kivalov.
Pictures testify to it, which I published the Ukrainian top - the blogger Igor Bigdan.
So, the user of a social network Christina Ivanova published the address calling «till Friday» to vote for three petitions given in the list below.
Whom is the author of the message, it wasn't succeeded to establish yet (the account, by the way, is already removed). However all three listed petitions concern Sergey Kivalov:
1. «To stop political prosecution of one of the best legal higher educational institutions of Ukraine of National university» Odessa legal academy «and his founder Sergey Vasilyevich Kivalov» (the author Valeria Prushchak, 1297 voices at the time of this publication);
2. For appointment S. V. Kivalova European Commissioner «For democracy through the right» (The Venetian Commission) for the following term (the author Ivan Golosnichenko, 1267 voices);
3. To enter in sovereign Ukraine in the Odessa seaport the mode of free economic zone «Port - free» (author Sergey Kivalov, 4890 voices).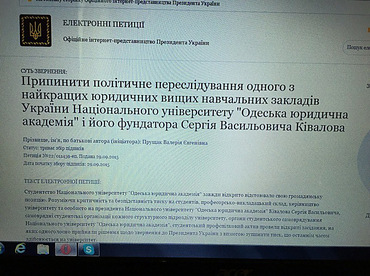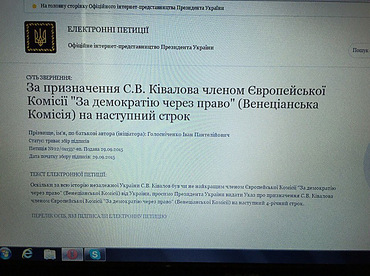 We will remind that earlier it was reported that in the settlement of Zatoka about 300 students of legal academy of Kivalov, the candidate for a post of the mayor of Odessa are registered