On July 1 in Municipal showroom on Nikolskaya St., 54 the exhibition devoted to memory of the known person in the Nikolaev creative environment - Mikhail Ternovsky opened. And shortly before it, on June 21, the first sailing regatta of his name took place.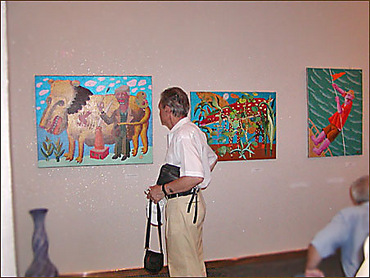 92 works presented to public ten artists - Mikhail Vladimirovich's friends. The considerable part from presented on an opening day was written on open-airs in the village Kostychi standing on the ingulsky coast in several tens kilometers from the regional center. In this village, having retired in the 50 years, the hereditary diver and the traveler Mikhail Ternovsky bought a lodge - a tumble-down house, repaired it and began to invite the friends and their friends, gradually becoming relatives to it people, to create "on the nature". Except artists, among them were both poets, and musicians. "We were united by acquaintance to Mischa," - all of them spoke at exhibition opening. They are it V. Merkulov, S. Panteleychuk, A. Ipatyev, D. Moldovan, M. Kuzminykh, V. Pustylnik, S. Lukyanenko, I. Kalinin, V. Gritskikh, S. Gusev." Both a surrealism, and realism," - so I characterized the majority of the works presented at an exhibition, the honored worker of arts of Ukraine, the artist Serafima Senkevich. After Mikhail Ternovsky's death his friends gathered on a spring open-air in Kostychi which result was summed up on this memorable exposition which will last till July 19.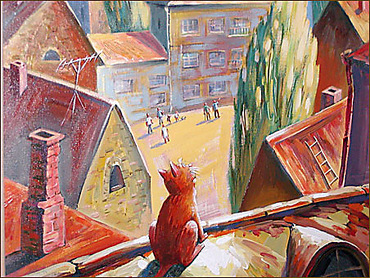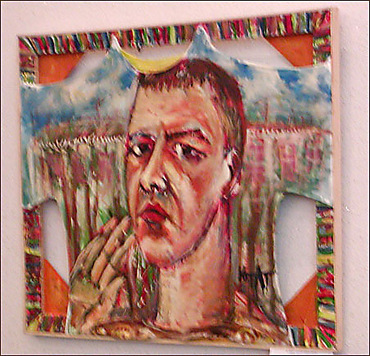 "Pensive sails" Sergey Lukyanenko, Dmitry Moldovan's mystical animals, "Collapse of dream" and "Memory of the wood" the debutant of similar opening days Igor Kalinin, mitkovsky "Farewell to the USSR" V. Pustylnika, Valentin Merkulov's Montenegro houses for which he received гран - at in the priadriatichesky city of Stoliv, Alexander Ipatyev's self-portrait on the t-shirt which has received the second life - these non-standard works became the best monument to the good person and the excellent friend Mikhail Ternovsky who could read for hours for memory to friends verses.It did it without pressure, being the person very erudite, and it - at such - that to work! From the travel and the international regattas (I went including on the well-known Icarus yacht together with the captain Boris Nemirov) Mikhail brought medicinal herbs and exotic trees which got accustomed on the fertile kostychivsky field, with familiar archeologists was engaged in search long ago and historical instructions reliably hidden underground. In passing entering new names in the chronicle Nikolaev "худфонда". So it opened "to the city and the world" Igor Kalinin.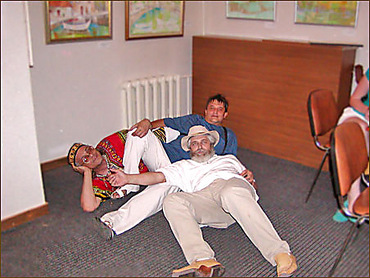 Irina Gudy, izdatelnitsa and Mikhail Vladimirovich's old friend, reported that in September in her publishing house the book of "diving stories", told by M. Ternovsky is going to be issued. She is sure: it would live on light a little more, and kostychivsky open-airs quite could become analog well-known to "voloshinsky giving".