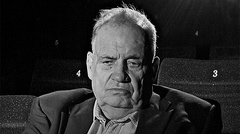 The legendary Soviet director Eldar Ryazanov died in Moscow on 89-m year of life.
About it reports news agency of TASS.
«Unfortunately, we confirm officially this information» ,—told to agency in a family director.
Eldar Ryazanov was hospitalized on November 21 in hospital. Before it already passed treatment in October and September. In August to it preventive cleaning of vessels was made.
Earlier it was reported that the director Eldar Ryazanov was connected to the medical ventilator.
It should be noted that Eldar Ryazanov in March, 2014 together with others I signed the letter Russian «Union of cinematographers and professional cinema organizations and associations» to the colleagues from Ukraine, condemning «Russian military intervention» to Ukraine. Also, in March, 2014 together with others I signed the appeal of initiative group on carrying out the Congress of the intellectuals «Against war, against self-isolation of Russia, against restoration of totalitarianism».
Ryazanov shot such movies, as «Carnival night» , «Beware of the car» , «Old men - robbers» , «Improbable adventures of Italians in Russia» , «Twist Of Fate or Happy Bathing!» , «Office romance» , «The station for two» etc.