In Simferopol activists of the Civil Asset of the Crimea and Petrovsky Heights organizations blocked approaches to the City Council building with the requirement of resignation of the mayor Gennady Babenko.

In an action participate to 400 people who were to the City Council with slogans "Down with the undersized object - the impostor! ", "Mister Babenko, allow you to go out", "A nasty sweeper we sweep out Babenko and Pykhteev from the City Council", "the General Moskal! We will protect inhabitants of the Crimea from thieves! "
According to activists, they blocked an entrance to the building only to the high-ranking officials of executive committee and prepared eggs for a throwing in G. Babenko in case it is to city council.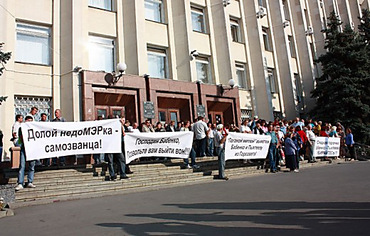 photo: http://www.e-crimea.info