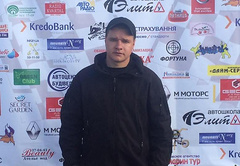 On the occasion of Day of the defender of Ukraine the President Petro Poroshenko has signed the Decree No. 442/2016 which he has noted high state awards of soldiers of the Ukrainian army and other law enforcement agencies who have shown courage and heroism in fights for independence, sovereignty and territorial integrity of Ukraine.
Reports a press about it - service of the Head of state.
So, medal «To the defender Otechestva» the police staff sergeant Alexander Narodovy is awarded–police platoon No. 1 of a company of patrol service of police of special function «Nikolaev» Head department of National police in the Nikolaev region (the special forces better known as «Saint Nikolay» , - MO).
«From July to August, 2014, from September to October, 2014, from December, 2014 to January, 2015, from May to June, 2015, from January to March, 2016 the police staff sergeant Narodovy participated in performance of tasks of protection of public order in areas of carrying out anti-terrorist operation, on fight against crime and antisocial manifestations on the block - posts in the cities of Svatovo, Schastye, the settlement of Trekhizbenka, the city of Lutugino of the Luhansk region.

During service on the block - a post in Lutugino of the Luhansk region has personally detained the spotter of terrorists. Besides, he has withdrawn 3 units of firearms, 125 cartridges, one RPG - 7B and 5 grenades to it» , - have reported in a press - service of the President of Ukraine.
Let's remind, The president of Ukraine Petro Poroshenko has also awarded the order ex-the commander 79-й ОДШБр Alexey Shandar.