Figure skating is considered for a long time not only sports, but also art.
Because to become the winner in any championship, it is necessary to show before judges something fascinating, unusual. Except professionally executed elements, the viewer wants to see actor's game of figure skaters. For this reason the only school "Gulf Stream" took the first step in Nikolaev of figure skating on a way of creation of the theater on ice.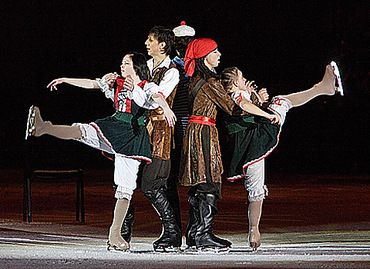 - The first step to successful creation of the dramatized school on ice passed on these New Year's and Christmas holidays, - the trainer of school of figure skating Larisa Ivanova speaks. - The first performance which we showed before the audience, became the performance "Buratino". It is known that in this fairy tale heroes wanted to create the theater. This statement we let know that it only the beginning of our theatrical way. In many cities the dramatized ice representations submit for a long time the audience, at us is it is only the initial stage. And the most important - our young figure skaters to whom on only four - five years - any more aren't afraid to address the audience. Every instant on ice for them and their parents - happiness. We prepared for "Buratino" some months. The result surpassed all expectations. Are happy both the audience, and children, and their parents.
- The first few days children were afraid to address the audience a little, but literally in four days they began to enjoy and didn't want to leave, - the choreographer of school of figure skating "Gulf Stream" Elena Malaya speaks. - I think that when in season end we will put the performance "Little Mermaid" on ice. Besides, ourselves sewed to ourselves suits and when children for the first time dressed them - tested the delight sea.
Reference
Theater on ice are representations (ballet, circus, variety), shown on platforms with artificial ice - at stadiums, circus arenas. The greatest popularity was received by professional collectives: The Vienna ballet on ice of "A great revue" (Eis Revue, Austria), "Holliday it great" (Holiday on Ice, the USA), "Art ensemble of figure skating on the skates of the Prague platform" (ChSSR), "The ballet on ice" and "Circus on ice" (USSR).