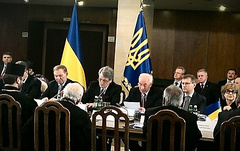 Representatives of a public Euromaidan didn't invite to a round table of four presidents, his authorized representatives there too weren't.
Such statement of a public Euromaidan rather so-called «Leonid Kravchuk's round table» , which took place last week twice, is widespread on December 16 in the social network Facebook.
So, representatives of social movements and the organizations who initiated a peace action in support of signing of the Agreement on Association–Євромайдан, declare that «didn't authorize any representatives and didn't delegate the right to someone personally to represent the coordinated public opinion on «Leonid Kravchuk's round table».
Activists pay attention that don't know, by what principle representatives from a public Euromaidan and отмежевываются from those statements which were stated from their name at meeting with the assistance of the president were invited.
In particular, representatives of a public Euromaidan are surprised that in a round table which had to symbolize power dialogue with civil society and opposition, on behalf of public organizations Denis Shevchuk–participated head of political party «Russia».
«Shevchuk wasn't delegated by the public and had no powers to act on behalf of all public Euromaidan. Public activists regard this situation as manipulation and attempt to create «pocket» dialogue which actually has nothing in common with intention to solve difficult political crisis with society» participation, - it is spoken in the statement.
The public Euromaidan calls organizers of a round table, in particular ex-the president Leonid Kravchuk, to explain the principle of the invitation of representatives from civil society and to correct misunderstanding.
Also activists remind that students who had no relation to straykovy committee, which «participated in work of a round tableit was democratically created by representatives of different higher education institutions who joined an action in a podtirka of eurointegration».
«Today Euromaidan life, except opposition forces, different public organizations and movements which work as horizontal self-coping initiatives support. Now between them there is a work on development of democratic principles of interaction and coordination» , - notes the Euromaidan.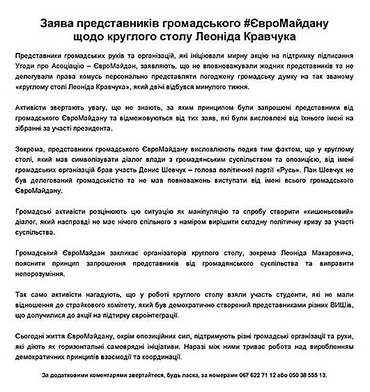 We will remind, earlier it was reported thatthe organization Student Coordination Council declared that on a round table to Yanukovych under the guise of students from the Maidan brought «young regionals».