Underground pits turned into free criminal sandboxes for quirky Nikolaev officials and businessmen, with a children's spontaneity commercially plundering national good.
Zhovtnevy prosecutor: personally I went on pits, but I saw nothing
From the moment of the previous publication in the Nikolayevsky Business newspaper of November 5, 2008 "Moles of shadow Klondike" in the territory of Galitsinovsky village council, seemingly, so anything also didn't change: sand, as before, is plundered, and, commercially. Daily depending on a season and weather to unauthorized pits arrives from 20 to 35 cars.
Certainly, offensively: there was a confidence that the order here will be restored. Not for nothing on career on us lowered dogs, and the prosecutor of the Zhovtnevy area Dmitry Stoykov personally went on galitsinovsky pits and reported to the newspaper:
- Anybody isn't present, everywhere is empty, the equipment is thrown - only the drunk watchman and five hungry dogs …
But the prosecutor as everything repeated again didn't manage to leave.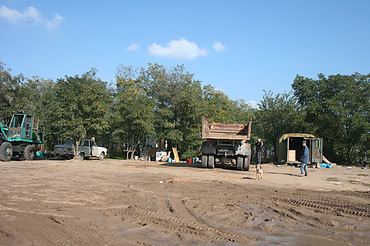 - Change is, why? Approach to loading of "shadow" sand became much more organizovanny, - the head of public organization "Nikolaev Human Rights Group" living in Galitsinovka Sergey Kurichenko emphasized. - Cars "stock up" now on a guerrilla method, hurriedly: approximate time, apparently - by the mobile phone. On the basis of the facts published in the newspaper our public organization intends to submit the claim to administrative court on the prosecutor of the Zhovtnevy area Dmitry Stoykov with the requirement to carry out a public prosecutor's inspection and to bring criminal case concerning Galitsinovsky rural Ivan Nazar's heads with the subsequent compensation of the losses caused to a rural community. After all, according to the law on local government, rural the head bears responsibility for everything that occurs in the territory entrusted to it.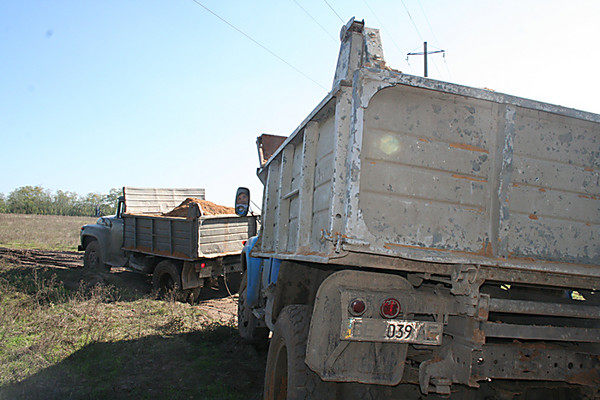 To talk with Nazar - so isn't present! Already again it leaves us with a nose, and we can only wonder its next plans for establishing order in the village and to strengthening of friendship with the Ukrainian legislation.It would be desirable to learn both from it, and from the regional prosecutor, which practically always "on departure" why still on the galitsinovskikh lands, despite a ban of the state ecological inspection, JSC "Stroyresursy" Industrial Company (the head certain N. V. Buchko) continues to extract illegally further sand commercially? And again question: whether this firm paid essential damage in interests of the state in the last year's judicial claim? Whether continues to develop the illegal sandy pit of JSC Poseydon-Yug on which last year the pretrial investigation was held? And than it came to the end? There is a lot of questions …
But, alas, the secretary, remembering a strict pointer of the chief, "" the owner I didn't allow journalists to a body. Strange as - that: constantly hiding chairman and why the hiding?.
Not so long ago the released post of the head of Zhovtnevy regional council Victor Osipov quite ridiculously was distressed about it:
- Than I can help you? I on Nazar have no justice: it - local government.
So tell: how to behave to Nazar, the rural god to whom, apparently, all is authorized?
Striking example in confirmation of the told - the next formal reply of prosecutor's office of the Zhovtnevy area. Say, the accounting of useful fields is a prerogative of a state administration of ecology and natural resources, are obliged to control observance of the land legislation two state inspections - land and ecological, and to exercise supervision of activity of the specified bodies the Nikolaev interdistrict nature protection prosecutor's office and prosecutor's office of the Nikolaev area. The regional prosecutor, alas, has nothing to do as though: everything is distributed. But Zhovtnevaya prosecutor's office isn't necessary aside: in turn she too "carried out inspections of legality of placement of pits in the territory of Kolarovsky and Galitsinovsky village councils, but in connection with carrying out similar checks by nature protection prosecutor's office materials are sent on accessory to nature protection prosecutor's office". Again from the prosecutor - like water off a duck's back!
Art. 13 of the Constitution of Ukraine says that the earth, its subsoil, atmospheric air, the water and other natural resources which are in limits of the territory of Ukraine... are objects of the property right of the Ukrainian people. On behalf of the Ukrainian people of the right of the owner carry out public authorities and local governments within the law. The property shouldn't be used to the detriment of the person and society...
Art. 19 of the Code about a subsoil of Ukraine says that a subsoil is provided in using to the enterprises, establishments, the organizations and citizens only in the presence of special permission (license) to using a site of a subsoil. The right for using a subsoil makes sure the act of providing mountain branch...

St. 10 Codes about a subsoil of Ukraine say that to maintaining village, settlement, city and regional councils of People's Deputies in their territory in the order established by this Code and other acts, coordination of petitions for granting a subsoil in using for the purpose of geological studying, development of mineral deposits of local value, implementation of local programs of development mineralno - a source of raw materials, rational use and protection of a subsoil, restriction of activity of the enterprises, establishments, the organizations and citizens in cases and as it should be, provided by this Code belongs, control of use and protection of a subsoil …
Subsoil - property. But whose?
With approach of spring of heavy cars, loaded building materials, in particular sand, on the Nikolaev roads becomes more. Demand dictates the offer: construction business became more active, summer residents, in the heat housing repairs began to be interested in sand vividly.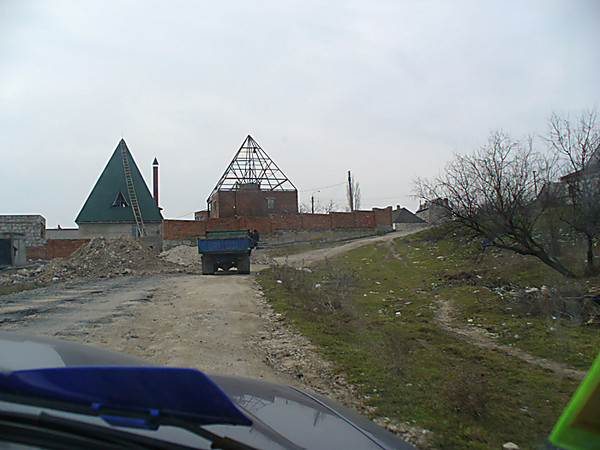 Number of numerous trucks with hundred tons of the stolen sand, imprinted by an editorial camera, we will essentially not list - for the sake of objectivity. After all soldiers in shoulder straps, militiamen, the rural heads, employees of forest department, the high-ranking officials of various rank monthly undersign for a decent salary which should be fulfilled, and, honestly. But why - that we have to carry out their work, newsdealers.
By and large it is necessary to catch after all not drivers of trucks, and to open from within the shadow scheme, the system pushing them on a criminal way in search of pathetic kopek for a pro-forage of a family.
In the Nikolaev area, and it not the secret, long ago magnificent color prospers a subsoil - a shadow almshouse, and the national good is plundered, alas, not the first year.But former rates of plunders, judging by present scope, were where is more modest, participants of shadow process behaved more carefully, and volumes of plundering of useful fields didn't reach as it is observed now, to industrial scales with a shadow turn in tens of millions hryvnias.
It is possible to be convinced of it easily, having gone deep into contents of the Nikolaev advertizing newspapers. They literally dazzle with announcements of sale of construction materials - expanded clay, foam concrete, granite elimination, rubble, clay - the chernozem, a stone - quarrystone, a shell rock and, certainly, sand for every taste with flexible system of discounts (washed river, career, forest, white, yellow), packed up - from 6-7 hryvnias for a bag and bulk - on 240-260 hryvnias for the six-ton truck. Sandy "geography" of shadow sales isn't less various - practically on all perimeter of the city of Nikolaev: galitsinovsky pits, Mikhaylo - Larino, Kolarovo, Zaychevskoye, Matveevk, Slivino, Varvarovk and even city residential districts - the Rocket Grove with the Alluvium … It is necessary to remind of one quite important nuance: practically in all announcements the makeweight to purchase of sand offers one more service - export of household and construction garbage. On it we will stop separately.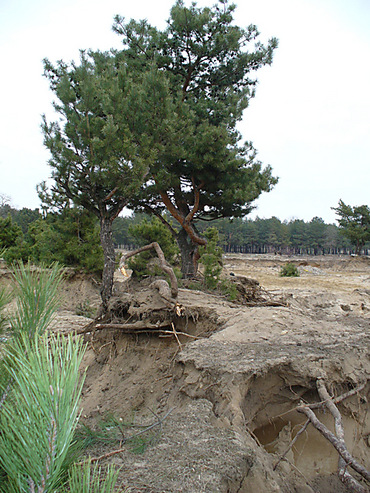 It is senselessly to argue: completely become impudent shadow business, advertizing in local newspapers the services, already is afraid of nobody - neither SBU, nor UBEP, neither GAI officers, nor district police officers, neither tax specialists, nor prosecutors, obviously, all society as a whole. It and isn't surprising: working over this material, talking to officials, officials, deputies, prosecutors, militiamen who could affect owing to the functional functions the solution of this problem, I didn't leave thought that they stay in anabiosis: advertizing newspapers "ne chitali", about plundering of a subsoil hear for the first time, about cars with sand especially, why and advice gave one more ridiculously than another: "To you, newsdealers, there is nothing to do more as on pits to hang around, better something good about people would write! ", "To write down numbers a little, it is necessary to record! ", "And you are sure, what sand stolen? " …
- The facts of unauthorized use of a subsoil were elicited at sand production in Voznesensky's territory (state of emergency Kogan) and Zhovtnevy (JSC Santa-Mriya) of areas. The production activity of these enterprises was suspended, - the first deputy of the state ecological inspection in the Nikolaev area Vasily Kushneruk reported editions.- But the decision concerning JSC Santa-Mriya wasn't executed, for what the responsible person of the enterprise is brought to administrative responsibility. Materials of checks were directed on reaction in prosecutor's offices of different levels. As for the Zhovtnevy area, last year in the territory of the village of Galitsinovo on the land plot allocated under building of houses, JSC Southern Industrial Company "Stroyresursy" I made earth self-capture with use it under an unauthorized pit on production of sand of 2,74 hectares. Our inspection shortchanged damage: for unauthorized use of the land plot the enterprise was obliged to pay 20413 hryvnias, for removal of a fertile layer - 39558 hryvnias, for inappropriate use of the land plot - 39927 hryvnias. Materials of check are transferred to bodies of prosecutor's office. Last year by results of the checks of 28 subjects of managing having permissions to using a subsoil, it was established that PKP "Agropromkomplekt", in general used JSC Novoodessky stroyresurs the earth without lease contracts. The damage made respectively 804 and 2761 hryvnia, officials are made responsible. Removal of a fertile layer without special permission was revealed during the checking JSC Ukratomtekh (the caused damage of 2165 hryvnias), PKP "Agropromkomplekt" (17180), JSC Zeleny Guy (20212), GP "Santa — Petrovka" (11549). When checking JSC Stoun in Voznesensky the area it appeared that on lands of agricultural purpose (pastures) on the area of 2,04 hectares the enterprise arbitrarily removed a fertile layer and began to extract sand. The amount of damage made 47200 hryvnias. On check materials the Nikolaev interdistrict nature protection prosecutor's office brought criminal case. For the purpose of anticipation of unauthorized production of sand last year road inspections in the suburb of Nikolaev, in the New Odessa and Zhovtnevy areas were carried out. By results of these checks 983 persons are brought to administrative responsibility for violation of state ownership on a subsoil, the sum of penalties made 79290 thousand hryvnias. But the big problem consists that still in Kiev the technique of calculation of the losses caused to the state owing to unauthorized using a subsoil isn't developed. Therefore to violators sanctions of administrative influence are applied only.
Terrible traces of sandy poachers

The trip turned out depressing. Near the Balabanovsky wood - Martian landscapes.Moles of shadow Klondike continued dig sand, in the territory of Galitsinovsky village council - the same. In the territory of the Kolarovsky Village Council in Kolarovk's villages, Kind Nadezhda, Zaychevskoye - too dig … In Meshkovo - Pogorelovo the same picture.
Recently in edition inhabitants of the residential district "Alluvium" called: alluvial sand around Amstor shop too take out by trucks … Rates of export grow every day: sand from the Alluvium has demand …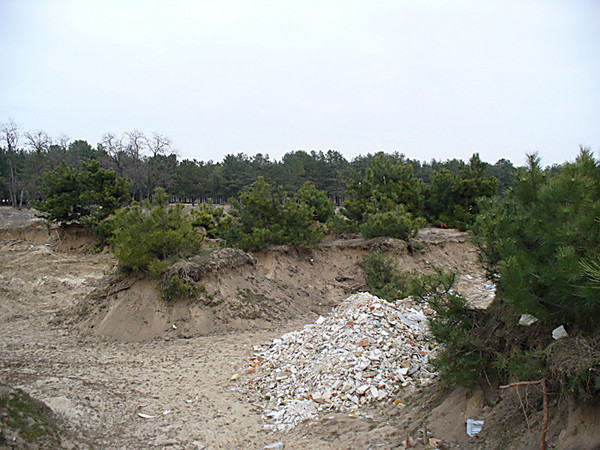 It is impossible to step into the territory of the Balabanovsky wood without shudder: barbarous production of sand bared roots of long-term pines. The wood perishes, its earth is covered with wounds, all it in ruts and funnels, as after long bombardment. In the formed holes - a lot of household and construction garbage (remembered announcements? ) From the wood - sand, in the wood garbage not to go empty … And it is so infinite …
To readers of the Nikolayevsky Business newspaper would be rather interesting to learn about it a position of the chief of regional management of forestry, the deputy of regional council Pyotr Palamaryuk: whether it intends to protect forest department the woods from sandy poachers and what measures takes? And if department isn't able to do it, it has to honestly and publicly declare it.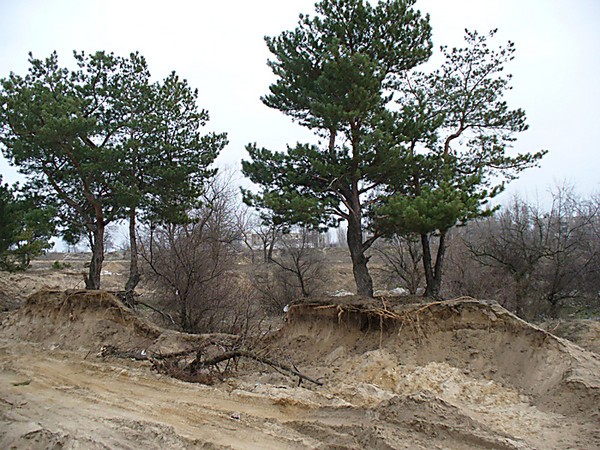 The potential and real opportunities has to declare publicly to inhabitants of Nikolayevshchina and regional public administration. Instead of as it is practiced by the new deputy head YEAH Valery Topikha supervising this site of work. Without having wished to meet and communicate in a telephone mode, the official, obviously, got a false idea that thus already solved a problem. Though it will be removed from the agenda not soon: not incidentally President of Ukraine still issued on March 26, 2006 the Decree about creation of regional programs for preservation and development mineralno - a source of raw materials. Such program in area, alas, isn't present, and to none of officials even to mind didn't come to impose the moratorium on sand getting before development of the program. Why? To whom it will be bad what the long-term shadow scheme of plundering of a subsoil, at last, will glitch?
To take root into a subsoil, but informally?
As all-useful information rather interestingly to learn that, according to the Code of Ukraine "About a subsoil", minerals are divided on the value on nation-wide and local. Separate fields of granites, gneisses, kaolin, cement raw materials, sawn limestones and mineral table water concern to the first in the Nikolaev area.In the category of minerals of local value fields of sand, loams, limestones and raw materials for cherepichno - brick production fall. According to official statistics, in the Nikolaev area 30 with small percent of minerals from 163 have nation-wide value.
It is remarkable that all mineralno - a source of raw materials of the Nikolaev area for 85,3 percent consists of raw materials for production of construction materials. Geological investigation confirmed officially also that in the territory of area there are two ceramsite fields which are able to provide Nikolayevshchina with raw materials for production of concrete filler for many years. In the state balance of stocks fields of cement raw materials, a construction and sawn stone, facing materials, carbonate raw materials for roasting of lime, production of a brick and a tile, agglomerate, peschano - gravel mixes and construction sand are considered enough impressive and not really. By the way, more than 10 percent of specific weight mineralno - a source of raw materials of area occupy fresh and Mineralnye underground waters and absolutely a hardly anything - radioactive ores, rare and non-ferrous metals, mining minerals.
It would seem, the nature enclosed a flag in hands of the imperious vertical obliged continued to care of filling of the budget, and to businessmen: both fresh kopek, and constant workplaces, and stable earnings … But the small chest opening officially, alas, of nobody tempted.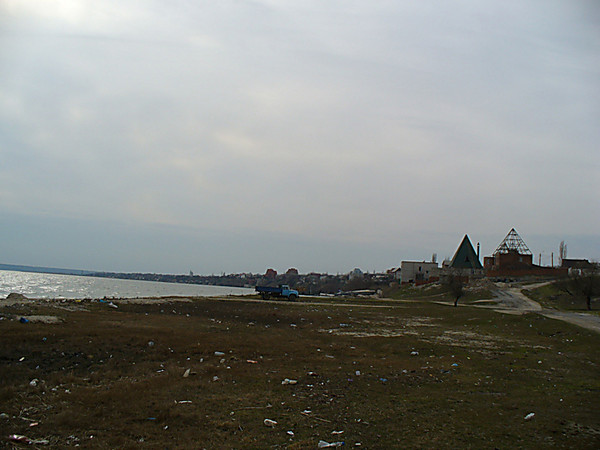 The available complex field of ores of nickel and cobalt, and also two fields of uranium, alas, at present too industrially aren't developed, as well as two fields of primary kaolin and 6 fields of carbonate raw materials.
Besides, practically all reconnoitered kirpichno - tile fields stay under arable lands, from 45 in a stage of development is only two.
Judging by statistics reports, from more than 160 fields of area a third is officially developed only. According to the freshest data of the state ecological inspection in the Nikolaev area permission to using a subsoil was received by 64 subjects of managing: 14 - on geological studying of a subsoil also it is skilled - industrial development, 50 - on operation of fields.The special wasn't difficult to take a pencil and to estimate, how many it would be possible to create new workplaces, how many to receive in the budget of additional financial injections, how many to solve social problems, if …
Not incidentally in the official report the chairman of the Nikolaev regional council Tatyana Demchenko characterized a condition of use of mineral deposits subjects of managing as DIFFICULT. It actually depressing. Not only that a subsoil podpolno is plundered, but also the subjects of managing having licenses for mining, strive to jump over the law. For the beginning of last year three subjects of managing had three million hryvnias of a shortage on taxes in budgets. By results of seven tax audits of the first quarter in the budget more than 340 thousand hryvnias of taxes in addition arrived. By results of 39 checks of the first half of the year the territorial administration of the Gosgorpromnadzor revealed 341 violations of the legislative and others is standard - legal acts on labor protection and protection of a subsoil: 18 officials are made responsible. In such situation it isn't necessary to speak about implementation of contracts of social partnership: only 12 of 23 contracts "worked".
As a radical step on correction of the created situation session of regional council adopted the provision on an order of coordination on obtaining special permission on using a subsoil. Change is made to the provision on providing mountain branches to users of a subsoil on production of minerals of local value in the territory of the Nikolaev area. The May order accepted YEAH "About activity streamlining in the sphere of use of natural resources and minerals in the territory of the Nikolaev area" too could be considered as a radical step on a way to correction of a difficult situation, but it was even more aggravated.
The situation with use of a subsoil demands establishing order, and the truth moment ripened long ago: officials of the duties don't carry out, but none of the higher administration don't do a beating to them. Therefore for years the debugged mechanism of corruption and theft of natural and national good works, as if hours.
Each of us lives in the own world consisting of work, a family, the house … In kitchen we discuss problems of global warming with pleasure, presidential election, the conflicts of "Yulya and Vitya", smaller subjects.From where to us know that at this time powerful scrapers load cars with sand that in the matveevsky wood the bent pines fall that in a week the huge number of illegal sandy pits became significantly deeper and wider … We are convinced and sacredly we believe that on the guard of the law reliably there were officials authorized by the power.
But we deeply are mistaken. Present officials, having filled the pockets, will leave the leading chairs on which the next clerks will take seat … And we, having shaken off vanity, once we will be terrified that allowed to make with itself: where we were earlier?
Galina PORFIRYEVA,
"The Nikolaev business"