Visited hostages ex-the prosecutor of Kiyevshchina told "Today" all details of stealing.
Stolen and released in Paris ex-the prosecutor, the known Ukrainian lawyer Yury Gaysinsky the day before yesterday, in day of return to Kiev, gave exclusive interview "Today". Here that he told:
- On Monday we have together a dinner with Vladimir Vorontsov, I changed clothes, went for a walk across Paris. Then agreed by phone to meet at hotel. Vorontsov told that the employee of our hotel suggested us to have supper at any good restaurant (not in hotel). I agreed. Learned that this employee ordered to us a little table at 20 o'clock. Remained about half an hour, it was necessary to change clothes. Rose in numbers, put on dress suits and left to an entrance. There was black "Mercedes", and the driver greeting to us waved supposedly you sit down.
We sat down on a back seat, I - on the right, Vorontsov - at the left. The forward passenger seat was free. The driver, the guy of years 30, told "OK! ", and we went. Came around on any narrow small street, the driver tells supposedly here restaurants on the right and at the left, to you what? We began to look around, and here two armed men rushed into salon, in the sports hats pulled over eyebrows. Near me the huge guy flopped and stuck into me with the gun. The second fell to a forward seat and put a trunk to a temple of the driver. At this time, I see, the back left door opens, Vorontsov jumps out from the car and where - that runs! And later couple of seconds on its place the third bandit became hollow. And too I rested to me sideways the gun supposedly don't move, and I will shoot that!
All of them, on my further supervision, were Caucasians, spoke with me on - Russian, but with terrible accent. To define, Georgians, Armenians, Chechens or someone else, I can't. And in a face from - for hats it is difficult to identify them. In any language they ordered something to the driver and we went. I can't identify language too, it is exact not well-known, like English, French, German, Spanish, Hebrew or the Yiddish, any Slavic...
While went, bandits gave me my phone (and before me searched, took away the passport, money - about 2000 euros, a credit card, and it why - that broke and threw out, the mobile phone which after conversation with the wife too threw out).Also ordered to call the wife, to say to her that on me the order arrived - to kill! But thieves supposedly do gesture of good will and suggest me to leave in live, but demand for my life repayment - 20 million dollars. However, the wife for excitement (as I told me) not услыхала the sum later and I decided that detained me... gendarmes! Well, its state can be understood... Still ordered to tell that the wife contacted why - that "the criminal world". Here she understood that I tell under duress, as such words not from my lexicon. It everything was hours per the 8th evenings.
Meanwhile the car rushed where - that at a speed as it seemed to me, kilometers 150 in hour. Through any time left, probably, Paris because I managed to notice indexes to Lyon and Fontainebleau (and in general - that at approach of road signs to me closed eyes a hand). Later in general closed eyes a piece of a black matter, having built something like a hat. So where went, I didn't see.
So went long enough. When profits, brought me by hands out of the car and I noticed that came into any big garage (I could see only that below, at the level of footwear). Two conducted, whether but those who with me went, or others, I don't know. I don't know also, whether the driver was at one with them. It remained in the car, more I didn't see it.
Came into any room to the right of an entrance. There from me took off "cap", I saw at once hours (mine too took away) - there were 23 hours so went long enough. I think that it already was not Paris though, of course, could turn two - three hours and around the city. In the room, except me, there were four more bandits (three - armed), dark guys of years on 30, too in hats (but others, those who captured me, weren't).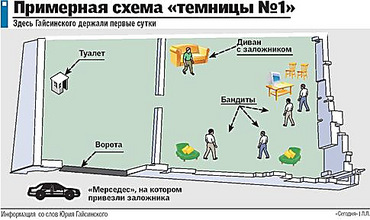 Put me on a sofa, distances in hands phone and told: "Call Roman Abramovich, the owner of "Chelsea", let it will help to collect for you repayment". I answer that isn't familiar with Abramovich, watched him only on TV. They: pier, you don't understand the situation, call, and that will be worse. And mat... However, used foul language without rage, without offending and without humiliating me, especially didn't beat. Seeing that I don't call Abramovich (I indeed have no concept about its phone number), ordered to call "to any of influential people which can rescue you" (ready to pay for me repayment in 20 million dollars). I answered that I don't know such, gradually they lagged behind.
We slept in the same room. I was given a sofa (though it was unless for teenagers).And settled - two behind a desk and two in chairs. They fell down in turn - two sleep, two look at me. I too slept watchfully more likely for short time was forgotten. Besides it was very cold. I was in rather warm jacket and a suit, bandits - too in jackets and jumpsuits or jeans. But it not strongly rescued.
In the morning one more bandit (on - to mine, that sat to the left of me in the car, resting against my side the gun) came. Who asked supposedly such Gena? I answered, what, maybe, he means my son-in-law Gennady Kernes? It: yes. Give supposedly its phone number. I remember it by heart therefore called. I gave also phones of the wife and the daughter. But, as it became clear later, they only called the son-in-law... All Tuesday we stayed in this room. In a toilet drove, putting on me the head any paper cap.
It was possible to drink in plenty, boiled tea, and also in the room was some polutoralitrovykh of bottles of good water. And fed the first time of hour in two days - from where - that was brought by excellent, hot meat sandwiches. I first refused, but they began to persuade supposedly yes you sing, at us don't take offense, you understand, we have such work... Actually I was hungry, didn't eat already almost days so as a result I agreed.
About midnight me again put on a cap and removed outside where put on a back seat of the car (but in a shchelochka below I saw that it any more Mercedes in which me kidnapped, seats others). On each side bandits sat down and went... This time went about half an hour. Removed, rose on a spiral staircase by the second floor, there in the room took off a cap. I looked round: the room of meters 15-20 square, is the refrigerator, the gas stove with big and small rings, and a microwave. To the right of an entrance - a toilet (a toilet bowl, a wash basin, a shower).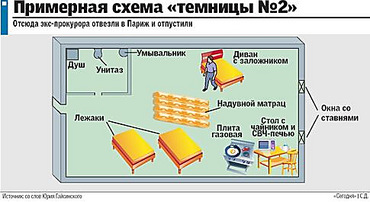 Bandits, thank God, got clean, regularly washed and to me allowed, brought to me linen sets, socks... Three times a day in the room did damp cleaning. But here they smoked, all four, simply brutally (I - that not the smoker)! Though Malboro, instead of I Will accept or a self-garden pitched, but there was nothing to breathe from a smoke (windows - that, closed by a sun blind, at all didn't open). I asked them that smoke very much, answered: we are nervous... Slept so: I was given a folding sofa (with sheets as it is necessary), settled on a big inflatable mattress and two floor plank beds.
There I was up to Sunday morning. Events was a little unless bandits continued to insist on calls to oligarchs...I, certainly, didn't call. Bandits threatened, hinted at possible tortures, like needles under nails, but it were only words. However in the evening on Friday the situation why - that sharply changed. Bandits hid guns, began to treat me much more softly. About repayment already also didn't stammer. And in the night from Saturday to Sunday (about midnight) at all declared: pier, thanks to any friend of Vorontsov who interceded for me, it is decided to release me!
To finish the story about "the second prison", I will tell that fed there as it is monotonous: sandwiches or pizza. Then I didn't sustain, declared that I can't without vegetables and fruit. Then brought apples...
VORONTsOV: "Me KEPT IN the CELLAR". Radio, the TV there wasn't available, there was nothing to read too. As - that I asked the Bible in Russian, but also it didn't receive. That is some days I or sat on the sofa, or lay, the room sometimes paced. It was sad... But I slept these nights well, nerves at me strong. And I convinced myself that bandits have to protect me because I have for them value live and healthy. If, of course, all this not game and from me don't want in practice something another, instead of repayment. When convinced itself that me won't touch, it became easier. Though, were, of course, and dark thoughts... But on Saturday I understood, something at them isn't glued and cheered up.
In the morning on Sunday there arrived one more bandit, ordered to put on to me. Removed with a cap, put in the car, but only one sat next. And one plus the driver - ahead. On the road had such conversations: pier, we didn't touch you, the truth! ? You don't take offense at us and! ? You us in a cop shop (and spoke, not in police) won't hand over! ?
Drove to the city, they speak supposedly you know where your hotel, you will tell the taxi driver? I answer that I know, but I absolutely have no money, you took away everything... They gave me 300 euros (and took away, you remember, 2000). Also showed (having taken off from me a cap): costs a taxi, go there and don't turn around. You will arrive to hotel, there you will be waited by your friend (Vorontsov), it has your passport and in general he knows what to do farther. With these words me let out and I went to a taxi. I called hotel on Rivoli Street and went there.
I arrived to hotel at about noon, I walked round the hall (room at me was booked for only 4 days, already terms passed), anybody isn't present. As was hungry, I decided to have a bite, I sat down at restaurant. I ordered, I eat, and Vorontsov here approaches. We embraced, began to ask each other. I'm saying: you escaped, escaped? It:no, there behind still there were two cars with bandits, I was seized, took away and kept all this time in a cellar, just let out. Money allegedly from it didn't demand. I speak, say, and to me told that you as - that paid off with bandits that your any friend promoted my release. It: it is separate conversation, then...
While we talked to it (Vorontsov really gave the passport to me), two men of years 40 approached to us, almost two-meter growth and with very characteristic physiognomies, precisely, as at our oper of a criminal investigation department. Were presented supposedly police, showed certificates. "Mr. Gaysinsky and Mr. Vorontsov? " "yes". "Went with us". (Later I learned that it there were representatives of the best group of criminal police of Paris on release of hostages, search of murderers and so forth. They worked on "my" business of four days).
POLICE: "HE DIDN'T ANSWER ALL OUR QUESTIONS". Brought us to the central office of police of Paris, brought at first to an office to the commissioner of police - the pretty woman. Waited the translator (by the way, the Ukrainian) and 6 - 7 sentry interrogation began. (Us with Vorontsov at once parted on different offices and interrogated separately). Very in detail asked on the weapon of thieves, defined that, in particular, one had Austrian 16-charging "Glok" (the bandit was played all the time by it, taking out a holder, inserting).
Eventually photographed me, finger-printed, returned my things received in hotel, and released. I, of course, took an interest, whether for the first time there was such stealing, how mine? No, speak, not the first case. And opened? Well, once too the live managed to release the hostage. But more often found corpses... And the commissioner told how, actually, it was succeeded to release me.
It appeared while looked for me, detained any criminal authority, too the Caucasian. In exchange for any indulgences from police he promised that will find me. Also I found. Probably, as - that on the channels I contacted "my" bandits and I agreed that me released.
After interrogation at an entrance to police I was waited already by the French lawyers who were employed by my son-in-law Gennady Kernes. They brought me to hotel (already another, room booked on others surname that nobody knew where I). The next day with one of lawyers we went to well-known "Hotel of Dyyu Hospital" near Notre-Dame (at the left). It actually not hotel, and that at us call "is judicial - medical examination".There examined me regarding any traces on a body. I had no complaints, nothing was found. Then went to police, there to me showed video and a photo of different suspicious elements. But I identified nobody. On it, actually, everything ended. I spent the night a night more in hotel and on Wednesday departed to Kiev.
And as was with Vorontsov during stealing and after, I don't know. After all me - that after interrogation released, and Vorontsova - no! Him arrested... I about it learned after interrogation when was going to leave. I asked about Vorontsov, and the commissioner answered me that he is arrested. The pier, is on this permission of the judge, the prosecutor, all under the law. I asked of what it suspect, answered supposedly he knows... But I wasn't told. The only thing, you added supposedly all questions answered, and it - no...
"TO ME IT ISN'T REALLY CLEAR THAT WAS WITH VORONTSOV AFTER HIS ESCAPE"
- Why you flied with Vorontsov to Paris?
- It was the business trip for the conclusion business - the contract. I provided legal maintenance of the transaction. It not the first such case, the relations "the lawyer - the client" at us with Vorontsov proceed more than a year.
- What business at Vorontsov?
- As far as I know, delivery of a metalwork. This time, from his words, it was a question of possible contracts for delivery of a metalwork for sarcophagus creation on the Chernobyl Nuclear Power Station within a certain French project. Two Poles had to participate in negotiations, allegedly, also. But business didn't reach negotiations. We arrived on Sunday, November 23, and negotiations had to begin on Tuesday. But on Monday me kidnapped...
- What you will tell about the versions of your stealing which have been put forward in mass media? For example, what it could be connected with Shakhov's swindle - Volkonsky? Or with "Melnichenko's films"?
- Rather Volkonsky - simply nonsense. I don't know it, about "Elite - the Center" only on TV heard. In general, I never "threw" nobody, me deceived, it was... And here as for Melnichenko, however, he addressed to me, offered as lawyer and head of law firm, to give it legal help during official transfer of originals of "films" which will be made in the USA. We didn't sign the written contract, but it isn't obligatory, under the law, there is enough and the oral arrangement.
- So you agreed?
- Yes. But what it can be related to my stealing? In my opinion, any.Though Melnichenko when I agreed, asked, whether I am afraid? I answered that long ago of anybody and I am afraid of nothing. It was approximately a month ago.
- And what you will tell about the version according to which you chartered the ships for the Russian dealer in the weapon Victor Booth?
- To me, of course, flatters that I such cool, can charter the ships for weapon transportation... Also I call directly at night to Abramovich... But all this totally ludicrous. They say that Vorontsov knew Booth - can, it and so, I don't know.
- And at you suspicions concerning Vorontsov arose now?
- Well what suspicions? Both of us got to a bad situation... The only thing, isn't really clear to me that with it was after it jumped out of the car. I thought, it escaped, he speaks - no...
- Whether he could and organize your stealing? How to you such version?
- As the version, it too has the right for life. And me can suspect of anything, both it, and you... But if it, hypothetically, and so, I don't understand, why it could be necessary for it.
- Perhaps it ran into debt you the fee and doesn't want to pay?
- Well, a question it is impossible to answer it, unethically. It is a trade secret.
- At whom, except you, thieves demanded repayment for you?
- On Wednesday Gennady Kernes was called by the person with the Caucasian accent and repayment in 20 million dollars demanded. But I think that thieves and didn't expect to receive actually this fantastic sum, it seems to me, they had purposes others. What - I yet don't know. But, if it is honest which - that I now don't finish speaking, concerning my reflections about the incident. Not all while can be published...
- On the Internet there were messages as if two of your thieves are detained. Truth?
- I about it don't know. At the time of my communication with police of detainees wasn't (it was evening of Tuesday). Perhaps later also took someone...