Morning on April 1 inNikolaevbegan not with traditional jokes in the April Fools' Day and draws, and with protest action of marshrutchik which blocked Lenin Avenue and Lyagin Street area. GAI and militia instantly reacted and invited all protesters to discuss a problem together in the building of the Department of Internal Affairs.
To the general meeting of the director of the enterprises - the perevozchikoyena didn't come, there were only drivers, cashiers, the staff of GAI and militia.
For Marshrutchiki long waited before the building of the Department of Internal Affairs of the lawyer."We don't know laws therefore the lawyer is necessary, we wait", - they spoke. But, apparently, the lawyer didn't arrive.
Laws which regulate work of marshrutchik, protesters really don't know. It was accurately traced on those questions which they asked militiamen: "Under what law it is impossible to pass checkup if penalties aren't paid? ", "By what right inspectors of GAI it is hidden photograph? ".
Conversation without emotions and upon it didn't turn out as at a hall there were ladies, and women, as we know, can't often cope with the emotions not to pass to shout.
State traffic inspectorate accused that on city roads is too much cars.
- Already reached before, - the representative of marshrutchik literally cried out, - what not the passenger waits a minibus, and a minibus - the passenger. You don't know about it because not by minibuses you go, and by Lexus. And we are given to nobody the reference, how many we pay for a route. But all money goes to a pocket to officials.
The lady was supported a loud applause by present drivers.Head of department of transport of the Executive Committee of the City Soviet of People's Deputies Gennady IvanovI tried to explain to marshrutchik that they pay to the directors of the enterprises - carriers. And those pay taxes. Neither marshrutchik pay nothing to the city, nor the state. When Ivanov objected the lady and told that cars on routes don't suffice, the hall burst out laughing.
- 78 and 7 nobody wants to work at a route, - the head of transport department told. - You want to fulfill "rabochka", to earn money. And at the seventh route which goes on Kazarsky, nobody wants to work.Your directors have a plan for day - 150 hryvnias which needs to be given. And the driver has earnings - only 150.
Present again burst out laughing. Drivers claim that work for 12-16 hours per day, thus practically earn nothing.
- Let there will be one price of all routes, - offered marshrutchik. - After all it is possible to call the reason of accident rate and a difference in the price for journey. Let's say there is a minibus for 1,25 UAH. Behind it the minibus for 1,50 UAH afterwards goes. That car journey in which costs 1,50 means, has to overtake "cheaper" minibus. And them follows following, journey in which costs 1,75. And this too has to overtake already two minibuses. From here and high accident rate.
Gennady IvanovI reminded of the previous strike of marshrutchik on which all supported fare increase. And when journey rose in price, all were happy.
- Last time, when we striked, - told marshrutchik, - to us promised that us won't fine for violations of the rules at not equipped stops - such, as Soviet. But us constantly fine for it.
Deputy chief of Regional Department of the Ministry of Internal Affairs of area Artur Voitenkogave a task to the management of GAI to count, how many violations are recorded at not equipped stops. If there is a lot of such violations in comparison with number of other violations, so it - "for inspectors" and a situation needs to be changed easy bread. Also Artur Voitenko promised that the Nikolaev inspectors won't carry out the hidden photographing.
Already inflicted sanctions militiamen rejected at once the requirement of marshrutchik to cancel penalties and to forgive because it is illegal.
Finally agreed before that within a week and marshrutchik, GAI and militia will discuss problems and to look for ways of their decision. To Marshrutchiki threatened that if of them won't meet requirements, on April 8 they will begin large-scale protest action with road blocking and installation of tents.
Most likely, to consensus of the party won't come for a long time therefore simple citizens should be late soon for work from - for bad work of transport and it being necessary to go in small minibuses, having jammed in the nekh, as sprats in bank (though to it all and so got used).
Problem of marshrutchik that they don't know laws which regulate their work - don't know neither the rights, nor the duties.Directors of the enterprises - carriers at which drivers work for 16 hours per day instead of eight and which are given too much money use it. Workers of a route don't know that is written in contracts which they signed, and also in what service to address if their rights are violated. They accuse of all the troubles the power as a whole. For them each official, it isn't dependent on, whether he is responsible for baking of bread or for penalty withdrawal, is guilty in all sins because he is an authority. On simple drivers without education will always profit, and drivers will always protest, yet won't understand system in which they work, and won't learn own rights and duties.
Therefore in advance warn the chief that on April 8 you will be late for work from - for strikes.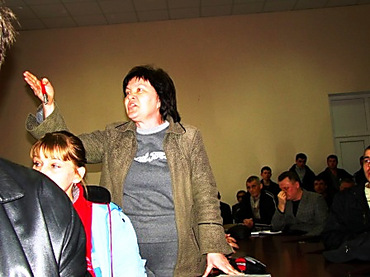 "Look at these poor drivers, - without constraining emotions, the representative of marshrutchik spoke, - they work for 12-16 hours per day. All of them toothless, are similar to pushers. But at you look (to militiamen -авт. ) - you are smart men. And it is a shame to me with the husband"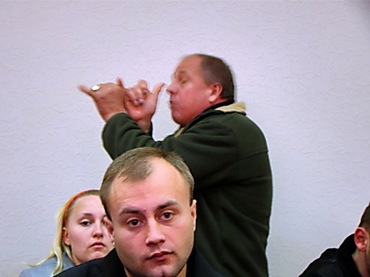 The driver on a background shows how GAI officers, hiding round the corner on Moscow, look out from there and photograph cars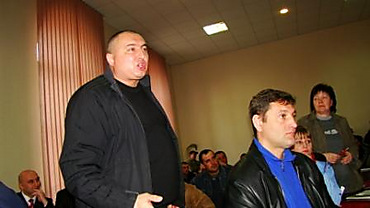 Head of transport department of the Executive Committee of the City Soviet of People's Deputies Gennady Ivanov (at the left): "With all problems you come to me to reception"