On May 7, 2009 on a press - conferences of public organization "Our City" were sounded the facts of falsification of solutions of session of the Nikolaev city council. In particular, it was a question that the decision No. 29/61 of 31.10.08 "About the approval of the project of land management of JSC Yugtekhstroy - groups" existed in two different editions. In one option the protest of the Nikolaev interdistrict nature protection prosecutor's office, in other a prosecutor's office protest was satisfied, on the contrary, deviated. Both options of 7 months led own life: one was published on the website of city council, another - is sent to inhabitants of the residential district of "Scaffold". Thus mutually exclusive documents were the guide to action Leskov It was, etc. very convenient for various government and public institutions, private firms, inhabitants: everyone could choose that option which suited it more. Eventually, in Leskakh, on st. Krylova, 19 the large-scale conflict "would" inflame, people suffered.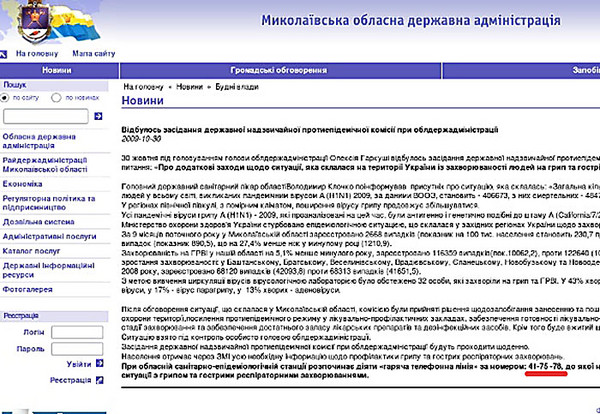 The public organization "Our City" appealed in regional prosecutor's office to carry out an inspection - as could happen so, what there were two decisions of the City Council at the same number, from the same number, but with different formulations?
The prosecutor's office of area charged to deal with this disgrace to city Prosecutor's office. And city prosecutors understood - to what the answer signed by the Prosecutor of Nikolaev by V. Kotkov testifies. From explanations of the head of department of land resources of the Frost the prosecutor's office found out that two draft decisions were prepared for session: one - to satisfy a protest of the interdistrict nature protection prosecutor's office, - a protest to reject the second. Say, who knows them, these deputies, what decision they will make. Personally the g - Moroz's N at session suggested a protest to reject. The mayor Chaika put the question to the vote therefore a protest everything is rejected three times. And further in "accurately adjusted" the mechanism of document flow E. Tarasenko - the head of legal department of management of land resources interfered somebody. It gave for registration and for publication "not that" the decision. For what reason of - жа Tarasenko made it, the prosecutor's office didn't begin to find out - "a technical mistake", say.And to punish the culprit in any way as it isn't possible because this Tarasenko left "at own will" still on February 23, 2009. It is necessary as successfully everything turned out! How to be spoken, "on isn't present - and the court isn't present".
Generally, as always, the switchman, besides, very in due time left "on own" appeared responsible.