"The president told, the President changed the mind", - the formula, briefly to correct an explaining essence of sudden desire of Victor Yanukovych the law on local elections. Which imperfection he "suddenly" - in a month after signing - found. The detailed explanation of this initiative - the main subject of the conversations occupying guests of reception, given by the head of state on the occasion of 19-oh anniversaries of Independence - evening of Monday. Of what Victor Fedorovich thought, by what motives was guided 27-го July - vising the document - here tried not to speak.
Both all happy families are happy equally, and the majority of festivals with participation of the guarantor are similar, as if two drops of water. Differ, unless, security measures - each time all of them are more severe.
So, on Victor Fedorovich's "crowning", across Trekhsvyatitelskaya almost freely (apart from jams) passed cars. During the last congress of PR (passing right there) cars already directed to a detour, fenced off sidewalks from a pavement ranks of metal boards, but "corridor" for passersby left. This time it seemed to observers of rest of all this Leader a little - Trekhsvyatitelskaya closed all. From the Church - "tightly". A Khreshchatyk good few (from office of the Kiev union of journalists) - too. The patch from parliamentary library to Philharmonic hall - by itself (in subways it too concerned the corresponding exits).
Well, and the scenario of receptions doesn't change. Staying to the bottom of the Ukrainian house, guests rise upward. It is perceptible: red path the majority diligently bypass. Remember, probably, as in the winter it covered just before arrival of the Leader - that not too trampled. In the spacious hall of the first floor the feast is covered. Having pushed a short welcoming speech, Yanukovych bypasses little tables. In total. Minutes through ten people starts lasting "on an exit". Through twenty - "on an exit" brings down. Through forty - on marble floors of the Ukrainian house heels of one only waiters clink.
However, reception on the occasion of the Independence Day had distinctive features. In - the first, Yanukovych arrived here one.Without the first lady who doesn't show to the world already even on the state holidays. And without the grandson accompanying the grandfather on inauguration. Even without Azarov meeting it, usually, on a porch of the Ukrainian house. In - the second, known exclamation "Glory to Ukraine - heroes glory! ", received this day new treatment. More precisely - it was sounded (received - that it it earlier). Guests, uslykhavshy it for the first time, were so struck that - sharing impressions with Lb.ua - unanimously called it "the most important ipresyony evenings". And so, on a greeting "Glory to Ukraine! " now it is necessary to answer not traditional "To heroes glory! ", and, forgive My God, "To Yanukovych glory! ". And it not joke.
In comparison with this tradition "the presents it is white - blue" (for the first time noted by the author in 2005 - m) in a feast to lift the third toast not for ladies, not for love - "for our Leader, Victor Fedorovich Yanukovych" - an utter nonsense.
And even the new nickname of the guarantor which he is called from now on by some confidants - the Emperor (instead of, actually, Leader) - doesn't seem such utter nonsense. Authorship of a nickname attribute Levochkina. To consult about opportunity volume with him, unfortunately, it wasn't presented. On reception the head of AP wasn't noticed.
Actually, it was quite difficult to notice there something to the majority of journalists in general.
Action didn't provide accreditation of mass media. Directly on reception access was closed, and for walk in vicinities of the Ukrainian house any lists, it seems as, weren't required. So, at least, the journalists, wishing to communicate to guests of action in the fresh air - on a krylechka of the Ukrainian house thought. State protection was, however, other opinion. Approaching the building from Trekhsvyatitelskaya couldn't be as it was noted, and speeches.
Not too lazy to bypass through the Maidan - turned on the Khreshchatyk.
- There are no lists, nothing is known. I won't let, - severe Ugoshnik shortly reported, obsequiously passing before us crowd of citizens with is yellow - blue banners in hands.
- And they where? - I became angry.
- They - according to the list. And you leave, - the man whom all here called "administrator" shortly snapped. In hands the administrator really had sheets with marks. Marks were simple: surname, opposite - the signature. It is simple to guess - receiving remuneration. Swinging sheets in air, "administrator" adjusted citizens with flags:
- We pass. On one. Quicker.So, mine - everything, - he reported on Ugoshnik, itself sliping for the metal obstacle established in the middle of the street.
- Now I. Here my people, - following "administrator" appeared in time.
Later and their two and their people I, without effort, distinguished in crowd of "supporters" of Victor Fedorovich meeting it at steps of the Ukrainian house by a liquid indecisive applause and convulsive shudders of banners. Hardly the Leader proceeded inside - "supporters" left away. Their love to the Leader was so great what to wait for Fedorovich's second phenomenon to the people - on the way back - didn't become.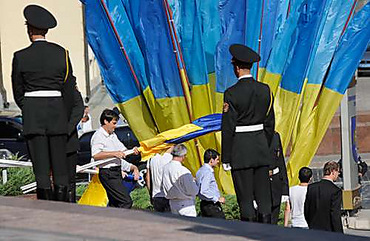 And we with the photographer didn't begin to altercate with UGO and, having roamed a little on area perimeter, an opening found. Minutes through ten we already accustomed at the bottom of a red path.
One of the first there arrived Alexander Popov. That is amazing - without suite.
- Officially the question of abolition of regional councils wasn't discussed, now not before, - it shared.
- And when before will be when in the city you will lose elections?
- No, well, why... It in general isn't connected in any way. Yes, I am not engaged in regional councils, I - by economic part, - on a habit, the official imitated full lack of information, - the Question really isn't necessary.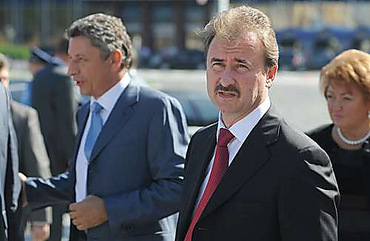 Further inquiries were represented absolutely unpromising. To achieve from Popov forecasts of political plans of PR in Kiev, all the same - that from Mogilyov - explanations of "excesses" of staff of the Ministry of Internal Affairs. Beholding its embraces and handshake with Vitaly Zhuravsky, I wanted, was to report to Alexander Pavlovich about location of his direct chief, the mayor Chernovetsky. About which he complained recently about absence of data and which Lb.ua found in Geneva. I wasn't in time - the driven car left Alexander Efremov.
It was required to find out from the head of PR fraction: why Victor Fedorovich at first stimulates adoption of the "draconian" law on local elections, then - it criticizes.
- You understand that from outside it looks as short-sightedness. To put it mildly.
- If you remember, I too stated disagreement with separate provisions of the law, at a consideration stage, - Efremov uttered, - He demands completion, it is obvious.
- Why it didn't improve in the course of acceptance?
- Then there was other situation. The coalition - at that stage - approved such decision.
- Now, so the situation in the coalition exchanged?
- Options of possible editings are now discussed, - Efremov softly left from a question, - If agreements are reached - editings will take out in a hall. Early session will take place, most likely, until the end of a month.
Behind details I went to Klyuev, расцеловывавшимся on a krylechka with Elena Franchuk.
- I am not engaged in elections, absolutely time isn't present, - the official reported.
- But you head of a staff!
- I? The m - m - m - m, - stretched, having become puzzled: the official statement about Klyuev's fixing to the central staff of PR, as well as Azarova - behind a coaching campaign as a whole, it wasn't valid though the decision made at the beginning of summer.
- You can't but justify trust of party. Here, at meeting in "Star"...
One eyes - without turning even the head - Klyuev looked around, estimating, as though to get off Lb.ua quicker.
- In "Star"? And it where? - blurted out suddenly.
- In Kiev!
On Andrey Petrovich's pleasure, on help to him the younger brother Sergey appeared in time.
- The sleepyhead, I didn't see so long ago the brother. In total work at it - is no time to talk.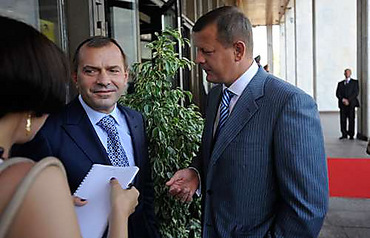 Request Klyueva to comment on own phrase told by it recently in a narrow circle: "Tigipko - our partner, and with Yatsenyuk at us the contract on criticism", was necessary to leave at himself.
Hands came nearer to four - after ambassadors, clergy, cultural figures, hurried to tables and the public, exchanging bows the friend with a druzhka on a krylechka is motley. The last - having been late for some minutes - the Leader rose.
By the way, especially close colleagues, hastened to present its unexpected maneuver as - who would doubt - great achievement, the testimony of extreme democratic character, far-sightedness.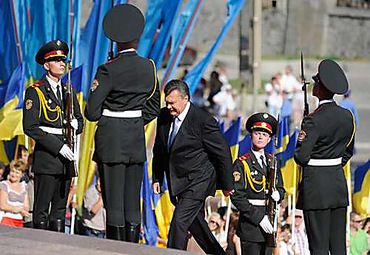 - Why he in signed the imperfect law? Oh, it is compelled to balance between interests of so many subjects. To it so, you know, not easy, so hard. But it is so healthy that it sounded need to correct the law! And he still about it will speak - some more editings are necessary! - enthusiastically one high rank from AP spoke.
Listening to it, sincerely I regretted for Levochkin's absence. Sergey Vladimirovich, it is possible not to doubt, having passed to confidential whisper, would tell:
- Oh, it initially was so conceived! It is such difficult mnogokhodovka!
Say, at first the bad coalition adopts the bad law, then good Yanukovych forces the bad coalition to restore justice. And does it when the PR main satellites - Yatsenyuk with Tigipko, already оплакав the impossibility "to be deployed on full", found approaches and arguments for compensation of the interests in those areas where have no full-fledged cells. And here - for couple of days prior to campaign - Sergey Leonidovich with Arseny Petrovich receive a surprise - possibility of participation in race on an equal basis with all. When "to develop a bayan" already late, money is spent, the people are attached in someone else's lists, and all stock of a lizoblyudstvo before PR is settled.
- Nothing late! We with presidential didn't displace staffs! We have such work … About! We hold primaries - still anybody such didn't do …, - - being represented to it grandiose - Tigipko can eternally speak about the political prospects.
- And none of "regionals" don't convict you - as member of the coalition - of excessive electoral activity?
- No that you!
- Even after you - exactly on the eve of anniversary of the Leader - all Kiev closed up with the posters?
Sergey Leonidovich was silent, smiled. As well as Klyuev - looked half an hour ago for ways to retreat.
- And on entrance to Mezhigorye you too hung up the poster?
The answer didn't follow.
- On mind, opposition it would be necessary to boycott race as that. The fact of participation in it and they and even you, legalize all this history. And in PR it understood earlier. Here to you true background of initiatives of Yanukovych. Plus - unwillingness to anger the West. To change everything at the last moment - a competent course, - I addressed to David Zhvaniya.
- Our force spoke: local elections aren't necessary now and these rules of the game... Well, if we can't influence them - though we will participate, - I philosophized, being tightened by a gray smoke, David Zhvaniya.
- At all respect, David Vazhayevich, I don't think that from - for your great and awful political force the law to change it decided.
- So will go - can elections at all will.
- That is? ! - I was dumbfounded - Updating of the law as a pretext for campaign failure?
- Exactly.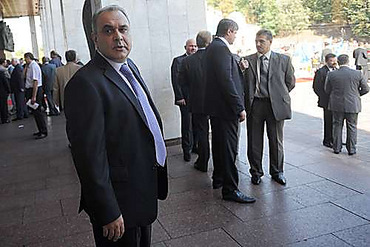 - Elections - that will be, but you not only of Yatsenyuk with Tigipko think. Having eliminated these scandalous norms we, thereby, we will accompany opposition.Earlier it was disconnected. Now that? Will have an opportunity to be consolidated, - one venerable regional in absentia objected it.
- You create wild legal precedent. How it is so possible?
- About precedent - I agree. It is bad, certainly. Well, so - we with Efremov initially against were these norms.
By us slowly and hard - on - senile going - протопал Leonid Kravchuk. Theoretically, presence on reception of the first President quite logically. Practically, I won't be surprised if tomorrow Tymoshenko's yesterday's supporter becomes constant visitor in a camp it is white - blue not only on festivals.
Behind it - Nikolay Martynenko with a thin ladies' cigarette (why - that is considered: "toothpicks" are less unhealthy. Afterwards - Alexander Lavrinovich. In narrow rectangular sunglasses it frightened of similarity to Valery Khoroshkovsky. I didn't answer questions of destiny of political reform - I laughed the matter off.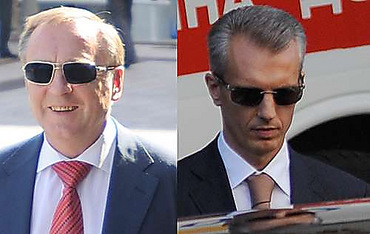 On a porch there was a noticeable revival - saw off Yanukovych. On a red path - to shake hands with the Leader Litvin came up.
- Everything changes, and it is good that the president reacts, - he noticed, being going to plunge into "Mercedes" given directly to a door, - interests of all political players, including new Have to be considered. And - new - a lot of things weren't pleasant to them. There were letters - from landowners from collectives …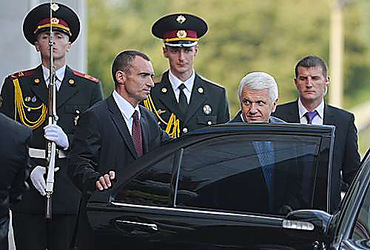 - At the Union too letters wrote labor collectives, addresses, - I didn't sustain.
- Yes, - with a bitter smile Litvin confirmed. Now too, here, there were letters. Yes, there were letters …, - added, plunging into an interior of leather salon.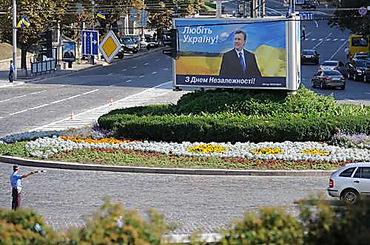 Sonya Koshkina