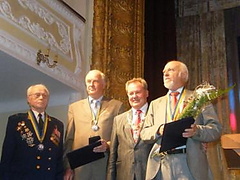 On Tuesday, December 11, the chairman of the Nikolaev Executive Committee of the City Soviet of People's Deputies in 1982-1990diedAlexander Molchanov. On 70-ohm year of life heart of giving-out nikolayevets with which name the considerable stage in the history of Nikolaev is connected ceased to fight. About it reported in department of information support of the Nikolaev city council.
Molchanov Alexander FomichI was born on June 21, 1942 in the city of Rezekna, Latvia, in a family of the worker. After the termination of high school I worked as the mechanic in trust «Latsantekhmontazh».
From 1960 to 1966 I studied at the Leningrad institute of engineers of railway transport in the specialty «Industrial power system». After the termination of institute I received distribution to the city of Nikolaev on the Black Sea shipbuilding plant where worked as the master, the builder of the ships.
In 1980 it was elected the deputy, then - the first deputy chairman of the Executive Committee of the City Soviet of People's Deputies, and in 1982 - the chairman of the Nikolaev Executive Committee of the City Soviet of People's Deputies. It was repeatedly elected the deputy of city and regional councils. I paid much attention in the work socially - to an economic development of the city, the decision in the allied ministries and departments of questions of assignment for improvement of infrastructure of the city, I coordinated work of a city staff on housing construction that allowed to put annually into operation to 250 thousand square meters of housing a year, schools, kindergartens, hospital.
With its active participation in the city intensive construction was carried out, the Master plan of a development of the city on 1985-2005 was developed, were constructed the House of trade «Southern Bug» , air terminal, railway station, sport school «Hope» , the bridge through the river Ingul. Intensive building of Lenin Avenue and Mira Avenue was conducted, more than one thousand families from Temvod's barracks and 6-го a site are settled out. The territory alluvium in the Scaffold residential district under construction of the inhabited massif was carried out, the conduit «is put into operationDnepr - Nikolaev» and other objects.
In 1990Alexander MolchanovI passed to work as the first deputy chief of Head department of economy of regional executive committee. In 1992 it was appointed to a position of the chief of Regional management of work and employment, in 1998 ohms - the director of the Regional center of employment.
However and after he threw a post of the mayor, Molchanov still tested on elections of the Nikolaev mayor, having lost thenTo Anatoly Oleynik.
The decision of the Nikolaev city council of September 11, 2008 to it appropriated a rank «Honourable citizen of Nikolaev».
Farewell withAlexander Molchanovwill take place in the hall of the Nikolaev regional state administration on December 13 from 11:00 till 13:00.